24 Companies with more than $1 Billion Each in Homeland Security Contracts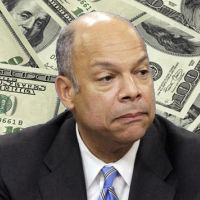 Homeland Security Secretary Jeh Johnson (photo illustration: Steve Straehley, AllGov)
Now that the House of Representatives has at least temporarily avoided a shutdown of the Department of Homeland Security (DHS) with a one-week funding bill, it remains to be seen who will benefit more from the short-term fix: the American people or the contractors who work for DHS.
So far, the smart money's on the contractors. Twenty-four of them have had contracts of $1 billion or more with the agency since it was created, according to USASpending.gov. The leader is IBM, which has received $4.9 billion from DHS, most of it for automatic data processing systems and services. (And DHS isn't even its biggest federal customer. That would be the Department of Defense, which pays IBM more than $6 billion). Right behind is Integrated Coast Guard Systems, which makes radio navigation equipment, at just about $11.5 million less than IBM. They are followed by Computer Systems Corporation at $4.1 billion and Lockheed Martin at $3.9 billion.
The rest of the corporations on the top 24 fall mostly into the categories of computer services or equipment expenses, such as shipbuilding. No. 17 on the list though, The Geo Group, is a private prison contractor with whom DHS has a contract for $1.3 billion.
The companies on the list all know you have to spend money to make money. Five of the top companies with DHS contracts from 2011 to 2014 spent a total of $107 million on lobbying. That's more than 2 million three-martini lunches.
With all that money flowing to influential corporations—and back to Congress—it's no surprise that the House narrowly averted a DHS shutdown late Friday.
-Steve Straehley
To Learn More:
Prime Award Spending Data—Department of Homeland Security
Top 5 Homeland Security Contractors Spend $107M Lobbying Congress and Federal Agencies, Receive $9B in Contracts (by Sarang Shah, Maplight)
Democrats to the Rescue: Congress Averts Shutdown for One More Week (by Daniel Newhauser, Alex Brown and Sarah Mimms, National Journal)
Homeland Security Not Following Rules in Awarding Contracts (by Noel Brinkerhoff, AllGov)