156,000 Seniors Have Social Security Checks Reduced…to Pay Off Student Loans
Wednesday, August 27, 2014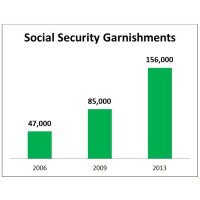 (graphic: Steve Straehley, AllGov)
At a time when thousands of Americans are trying to enjoy, if not just survive, their golden years, the federal government has been garnishing their Social Security checks to pay off old student loans.
About 156,000 individuals have found themselves in this situation, losing on average $180 out of a typical monthly check of $1,200, according to CNN Money. About $150 million was held out of retirees' checks last year.
The number of Americans affected has tripled since 2006, when there were 47,500 having portions of their Social Security withheld for payment of student loans.
One nonprofit group that helps students repay their loans, American Student Assistance, told CNN Money that the number of clients losing portions of their Social Security jumped from 200 to 1,000 in one year.
Old student loans often have interest rates around 7%, much higher than the less-than 3% being charged for loans taken out now. In addition, the loans are difficult to refinance or renegotiate and usually can't be discharged through bankruptcy.
Senator Elizabeth Warren (D-Massachusetts) introduced a bill this year that would have eased refinancing rules for student loans, but it didn't get out of the gridlocked Congress.
-Noel Brinkerhoff, Steve Straehley
To Learn More:
Retirees' Social Security Checks Garnished for Student Loans (by Patrick Sheridan, CNN Money)
Fastest Growing Group of Student Loan Borrowers…Parents Older than 60 (by Noel Brinkerhoff, AllGov)
Senior Citizens Still Paying Off Student Loans (by Noel Brinkerhoff, AllGov)