World's Least Populous Nation not too Small to see Freedoms Crushed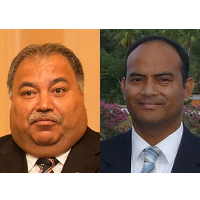 Baron Waqa and David Adeang
The 10,000 inhabitants of the island nation of Nauru are now living under a virtual dictatorship, with no right to freely use the Internet or to engage in political protest.
Nauru is the least populous of the 193 member countries of the United Nation. Its main industry used to be phosphate mining, but now it depends economically on holding about 1,000 people seeking asylum in Australia. The Nauru government has instituted a law designed to crack down on political comment and protests by asylum seekers about their conditions. The law prohibits "threatening, abusive or insulting in nature and with the intent to stir up racial, religious or political hatred." The penalty for violating the law is seven years in prison.
The crackdown appears to have been initiated by Nauru's Justice Minister, David Adeang. According to Paul Farrell of The Guardian, the government has also closed off access to Facebook and other social media sites, claiming it's an effort to stop "criminals and sexual perverts."
"These new laws could be used to muzzle dissenting opinions and deter human rights defenders, academics, journalists, students, politicians and civil society members," said David Kaye, the United Nations special rapporteur for freedom of expression. "Nauru should allow free space for expression without fear of criminal prosecution," Kaye said. "It should lift all restrictions to access internet and social media, and facilitate access to the media in the country."
A former Nauru magistrate who was exiled from the country in 2014 agreed. "It's the last vestige of democracy that's just out the window," Peter Law told The Guardian. "Freedom of speech is critical to any freely operating democracy. This is a clear attempt to stifle freedom of speech."
The restrictions are coming as the Australian Broadcasting Company (ABC) reported that Adeang and Nauru President Baron Waqa took thousands of dollars in bribes from Getax, an Australian phosphate dealer. When Waqa and Adeang were in opposition in 2010, according to ABC, they told former Getax director Ashok Gupta: "We can create a new business relationship that can take this country to a higher level of development and of course taking also your business to even more success." Adeang suggested in emails that Getax could take over the island's phosphate business entirely, leaving Nauru with virtually no income other than aid from other countries.
-Steve Straehley
To Learn More:
Australia to Raise Concerns With Nauru About Rule of Law (BBC News)
Nauru's President Baron Waqa and Justice Minister Allegedly Bribed by Australian Phosphate Dealer Getax (by Alex McDonald and Hayden Cooper, Australian Broadcasting Company)
Human Rights Groups Condemn Nauru's Criminalisation of Political Protest (by Paul Farrell, The Guardian)
Is it Really Necessary for the U.S. to Collect all Phone, Email and Social Media Communications from Tuvalu, Vanuatu and Nauru? (by Noel Brinkerhoff, AllGov)