Withdrawing Combat Troops from Iraq…Kind of, Sort of, Maybe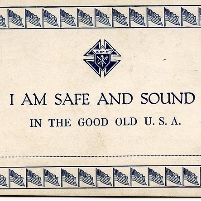 Postcard for Returning Troops, 1919
Last week, in a speech to a roomful of Marines at Camp Lejeune, President Obama announced that by August 31, 2010, the United States combat presence in Iraq will end. However, conflicting statements from the White House and the Pentagon have cast shadows of doubt on the details of the President's acclaimed statement.
During his campaign, and as recently as January 21, Barack Obama pledged to withdraw all troops within 16 months of taking office. However, after consultation with CENTCOM commander Gen. David Petraeus and Iraq commander Gen. Ray Odierno, Obama accepted Defense Secretary Robert Gates' recommendation for a 19-month timetable for withdrawing combat brigades, as was announced in his speech at Camp Lejeune.
Residual Forces
Obama said he plans to leave a residual force of 35,000 to 50,000 to advise Iraqi security forces, conduct counter-terrorism missions and protect U.S. personnel. This number was much larger than Democratic Congressional leaders had previously expected, and a number of them, including Senate Majority Leader Harry Reid, House Speaker Nancy Pelosi, and Sen. Chuck Schumer publicly expressed their disappointment.
Combat Capable Brigades
Although Obama claims that all U.S. "combat brigades" will be removed by the 2010 deadline, there is some question as to the actual purpose and capabilities of the 35,000 to 50,000 residual forces. CBS News Pentagon correspondent David Martin reported on February 24 that the residual force would be organized in "training and assistance brigades" that would be capable of conducting combat operations and calling air strikes from carrier or land-based aircraft. Martin also said the units would be "fully combat capable," suggesting that they would be drawn from combat brigades. In a teleconference with reporters on Friday, Secretary of Defense
Gates
confirmed having discussed the possibility of keeping combat brigades in Iraq, but renaming them "non-combat" forces, or actually sending new combat brigades to Iraq from the U.S. during the drawdown of the brigades now in Iraq.
The Final Date
Obama's August 31 deadline also conflicts with statements made by Gates in a question and answer session with reporters after the speech which hinted at the possibility that combat brigades could remain in the country after that date.
The President added in his speech, "I intend to remove all U.S. troops from Iraq by the end of 2011." But Gates and Gen. Odierno have both indicated on the record that they planned to keep U.S. troops in Iraq even after that date, assuming that the Status of Forces Agreement (SOFA) would be renegotiated, as reported by NBC's Pentagon correspondent Jim Miklaszeswki on Friday. Miklaszeswki also reported that some U.S. military commanders and Iraqis had discussed the establishment of "what could end up as a permanent air base, U.S. air base, in Kirkuk."
The Loophole
The Status of Force Agreement, which is intended to lay out a timetable for U.S. withdrawal from Iraq, contains a loophole that allows the possibility of extending U.S. occupation as a military presence beyond 2011 "upon request by the government of Iraq." Article 27 of the SOFA allows the U.S. to undertake military action, "or any other measure," inside Iraq's borders "in the event of any external or internal threat or aggression against Iraq."
-Aaron Wallechinsky