Which Dictatorship will Host the 2022 Winter Olympics?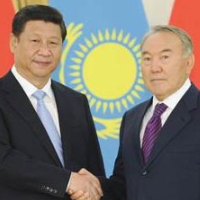 Xi Jinping and Nursultan Nazarbayev
On Friday, the members of the International Olympic Committee (IOC) will vote to decide which city will host the 2022 Winter Olympics.
Originally, there were three finalists, but in October, the favorite, Oslo, withdrew.
With the withdrawal of Oslo, the Olympic Movement has found itself in a crisis. Some have said that it is wrong that one continent, Asia, will host three consecutive Games (Winter 2018-PyeongChang, South Korea; Summer 2020-Tokyo), but Asia, after all, is home to more than 60 percent of the world's population.
No, the crisis is that both of the cities left in the running, Beijing and Almaty, are located in countries that are ruled by repressive dictatorships: China and Kazakhstan. Only 6 percent of Chinese citizens are members of the ruling Communist Party of China; 94 percent are not. Indeed, all of the most important decisions in China are made by the Party's seven-man Central Standing Committee. The Chinese government controls all television and radio stations. Internet use is heavily censored and closely monitored. Fair trials are non-existent; of 1,051,638 criminal defendants tried in 2011, only 891—fewer than one one-thousandth of one percent—were acquitted.
The human rights situation in China has actually gotten worse since Xi Jinping took power in 2013. In the words of Human Rights Watch, "authorities have…unleashed an extraordinary assault on basic human rights and their defenders with a ferocity unseen in recent years—an alarming sign given that the current leadership will likely remain in power through 2023."
Alas, Kazakhstan is little better. It has been ruled by one man—Nursultan Nazarbayev—since it gained independence 23 years ago. He controls the legislature, the judiciary and all regional and local governments. It is against the law to "insult" Nazarbayev or members of his family.
In an era in which the freedoms of speech, religion and association are increasingly respected, the International Olympic Committee (IOC) finds itself stuck with a choice between two regimes that are notorious for violating basic human rights.
In response to this dilemma, the IOC has added to the host city contract a non-discrimination clause and a new section called "Sustainable Human and Environmental Development." This requires the organizing committee and the National Olympic Committee of the host nation to "take all necessary measures to ensure that development projects necessary for the organization of the Games comply with local, regional, and national legislation, and international agreements and protocols, applicable in the host country with regard to planning, construction, protection of the environment, health, safety, and labour laws."
Although human rights groups praised the IOC for this step forward, the harsh reality is that both candidates for the 2022 Winter Games know that should they win, once preparations for staging the Games are underway, the IOC is extremely unlikely to take them away, so in the real world the new sections, as admirable as they sound, are probably unenforceable.
To lose Oslo as a possible host was a hard blow for the Olympic Movement considering that Norway has earned more Winter Olympics gold medals and more total Winter medals than any other nation in the world and, 21 years ago, Norway hosted the highly successful Lillehammer Winter Games.
It is said that Norwegians objected to the rising costs of staging the Winter Games. However, Norway has already committed to hosting the Winter Youth Olympic Games in February 2016, an event that might cost less than the full Winter Olympics, but is less likely to turn a profit.
The most probable real reason the Norwegian government refused to provide financing for the Winter Olympics is that it was, as IOC President Thomas Bach said, "a political decision" made by a shaky coalition government. As Bach put it, "It's very rare that a minority coalition government is taking the risk of losing or giving up its coalition for the sake of a project which shows its benefits only after the next Election Day."
I began my comments by saying that the Olympic Movement is facing a crisis. It is worth noting that the word "crisis" refers to a temporary state that will be resolved…one way or another. The Olympic Movement has survived greater crises, including two world wars, a terrorist attack and three major boycotts in a row.
It is also worth noting that the crisis applies only to the Winter Olympics. There appears to be no shortage of cities—in democratic countries—willing to bid to host the Summer Olympics of 2024, with Paris, Rome, Hamburg and Budapest already committed and a U.S. replacement for Boston likely to follow.
David Wallechinsky
President
International Society of Olympic Historians (ISOH)
Note: The opinions expressed above are mine alone and do not represent the views of ISOH.