U.S. Government Report Concludes 2014 was Warmest Year Worldwide since Recordkeeping began 135 Years Ago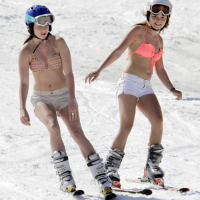 (AP Photo)
Despite the best efforts of climate-change deniers to persuade us otherwise, it's getting warmer here on Earth. In fact, last year was the warmest since recordkeeping began.
A report from the National Climatic Data Center showed that 2014 was the warmest year recorded since 1880, when weather records began to be kept. The average temperature was 0.69 degrees C (1.24° F) warmer than the average 20th century temperature. Some of the temperature swings are most pronounced in the planet's cooler regions. Especially high temperature anomalies—more than 5°C (9°F) above the 1981–2010 average—were observed in parts of Alaska and Siberia, according to the report.
"The globe is warmer now than it has been in the last 100 years and more likely in at least 5,000 years," Rutgers University climate scientist Jennifer Francis told Joe Romm of ClimateProgress. "Any wisps of doubt that human activities are at fault are now gone with the wind."
Had you been hoping for a white Christmas? Chances are, you didn't have one. No state capital had snow cover on December 25 for only the second time since 1946. In addition, the Arctic ice pack is still retreating; the average sea ice extent for December was 210,000 square miles (4.1%) below the 1981–2010 average.
And if you live in the Golden State, you've probably noticed it's warmer than usual. California's average temperature last year was 61.5° F, 2.3 degrees higher than normal.
"The record temperatures underscore the undeniable fact that we are witnessing, before our eyes, the effects of human-caused climate change," leading climatologist Michael Mann told ClimateProgress. "It is exceptionally unlikely that we would be seeing a record year, during a record warm decade, during a multidecadal period of warmth that appears to be unrivaled over at least the past millennium, were it not for the rising levels of planet-warming gases produced by fossil fuel burning."
But don't expect to hear too much about this from Congress. With the Republicans taking charge of the Senate, Sen. James Inhofe (R-Oklahoma), who has called climate change a "hoax," is now chairman of the Senate Environment and Public Works Committee.
-Steve Straehley
To Learn More:
Global Summary Information - December 2014 (National Climactic Data Center)
Global Analysis - December 2014 (National Climactic Data Center)
2014 Is The Hottest Year on Record, Breaking 2005 and 2010 Highs (by Joe Romm, ClimateProgress)