U.S. Calls for U.N. Vote on First-Ever Resolution Addressing Sexual Abuse by U.N. Peacekeepers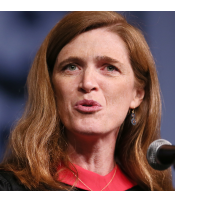 Samantha Power (photo: Getty Images)
By Edith M. Lederer, Associated Press
UNITED NATIONS (AP) — The United States called for a vote Friday on what would be the first-ever U.N. Security Council resolution to confront the escalating problem of sexual abuse by U.N. peacekeepers, a measure that U.S. Ambassador Samantha Power said is critical to help end sex crimes, especially against children.
In an impassioned speech, Power pressed the United Nations to go further and provide information on why numerous cases were not investigated.
Power also criticized the U.N. peacekeeping department for not quickly repatriating a Congolese contingent which had seven allegations of sex crimes in 2015, instead waiting until February for "operational reasons." In the first two months of this year, she said there were eight new allegations against the same unit — seven involving children.
"How can we let this happen? All of us?," she asked council members, her voice rising with emotion. "The experience should force us all to ask, what if those soldiers were sent home sooner? How many kids could have been spared suffering unspeakable violations that no child should ever have to endure, and that they will have to carry with them for the rest of their lives?"
The exchanges took place at a Security Council meeting where Secretary-General Ban Ki-moon presented his recent report detailing the 69 allegations in 2015 which for the first time named the countries of alleged perpetrators. Since the beginning of the year, the U.N. peacekeeping department said there have been 25 additional cases.
The final draft of the resolution obtained by The Associated Press endorses Secretary-General Ban Ki-moon's decision to repatriate military or police units "where there is credible evidence of widespread or systemic sexual exploitation and abuse." It also asks the U.N. chief to replace contingents where allegations are not properly investigated and perpetrators are not held accountable.
All 15 council members stressed that perpetrators should be punished, but Senegal's U.N. Ambassador Fode Seck and others stressed that the Security Council "must ensure individuals do not fall victim to collective punishment."
Egypt's U.N. Ambassador Amr Abdellatif Aboulatta said the issue should be addressed by the General Assembly, where all nations are represented but whose resolutions are not legally binding, unlike the 15-member council. He also argued that the issue shouldn't be used "as a tool to attack troop contributing countries" or undermine their reputation and significant sacrifices.
Russia's deputy U.N. ambassador Petr Iliichev said disciplining peacekeepers is not part of the Security Council's mandate to maintain international peace and security, and it would be "wrong to set the council up against the General Assembly."
He stressed that countries contributing troops must play "the key role" in reducing and eliminating "these shameful statistics."
Ban apologized for the growing sexual abuse scandal in peacekeeping operations that has tarnished the reputation of the United Nations and defended his decision to "name and shame" the home countries of alleged perpetrators "to improve their way of conducting their business." He also pledged to speed up investigations, three dating back to 2013, and to expand the information about recent sexual abuse and exploitation cases on a new U.N. website to cover all outstanding allegations.