U.S. and India to Increase Bilateral Trade to $500 Billion
Saturday, January 17, 2015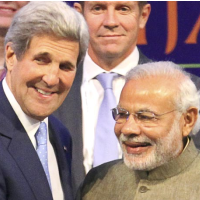 John Kerry and Narendra Modi
U.S. Secretary of State John Kerry said that the United States wanted to increase bilateral trade with India to $500 billion a year, a five-fold jump from $97 billion in 2013. He was in India for a two-day visit to set the stage for U.S. President Barack Obama's visit later in the month.
This is the first time that a U.S. president has been invited to be the chief guest at the Republic Day celebrations on January 26.
Negotiations between the two countries have intensified in recent weeks to ensure there will be significant agreements to sign during Obama's visit on issues like investment, civilian nuclear plants, military purchases, and climate change.
On Sunday Kerry participated in the Vibrant Gujarat investment conference in the home state of Prime Minister Narendra Modi, which was attended by business leaders and foreign officials like Ban Ki-moon, the secretary-general of the United Nations, and Jim Yong Kim, the president of the World Bank.

The government is keen on attracting more foreign investment to energize India's sluggish economy that grew by 4.5 percent in the last quarter.
According to The New York Times, when Modi led Gujarat as chief minister, he was able to smooth the way for foreign investors by speeding the decision-making process of the bureaucracy. Now that he is prime minister, the process is more complicated as much of the implementation depends on state governments. And despite having a large majority in the Lok Sabha, the lower house of India's legislature, Modi does not have a majority in the Rajya Sabha upper house. This has left many promised reforms in the pipeline.
"We're trying to complete the circle of economic reforms speedily," Modi told the conference attendees. "We are planning to take a quantum leap."
U.S. companies have faced challenges to expanding their business in India, including caps on foreign investment and disputes over intellectual property.
Both sides have also been talking for five years about how to navigate around India's nuclear liability law that U.S. energy companies would like modified before they build civilian nuclear plants here.
"I think there's a commitment on both sides to try to find a way through that," an unnamed State Department official told the Times. "I don't know whether that will be resolved in time for the president's visit."
During his presentation to the investment conference, Kerry said it was the right time to tap the "incredible possibilities" between India and the U.S.
"We can do more together, and we must do more together, and we have to do it faster," Kerry said.
With trade in goods and services between India and the US growing five-fold since 2005, Kerry said efforts must be made to increase the trade by an equal amount over the next few years.
-Karan Singh
To Learn More:
Kerry Lays Groundwork for Obama's Visit to India (by Michael R. Gordon and Gardiner Harris, The New York Times)
Vibrant Gujarat 2015: Kerry lauds Narendra Modi's Sabka Saath, Sabka Vikas slogan (Indian Express)
At Vibrant Gujarat summit, PM Modi promises to make India easiest place to do business (PTI)