Two Americans Arrested for Trying to Overthrow Gambian Dictator
Thursday, January 08, 2015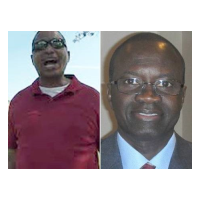 Papa Faal and Cherno Njie (photos: AfricaPaper, LinkedIn)
The U.S. government has charged two Americans originally from Gambia with being part of a plot to overthrow the dictator of that nation.
Cherno Njie and Papa Faal were involved in the recent failed attempt to oust Gambian President Yahya Jammeh, who has ruled the small African nation since 1994.
Njie and Faal traveled to Gambia, as did about 10 others, where most of the group tried to storm the presidential palace on December 30. The longtime dictator, who prefers to be known as His Excellency Sheikh Professor Alhaji Dr. Yahya and says he can cure AIDS, was not in the country at the time of the botched coup. Njie would have been Gambia's interim leader if the coup had been successful, according to the complaint filed against the pair.
The two Americans have been charged with weapons violations and violating U.S. law that forbids taking military action against a country that the U.S. is not at war with. Faal has said he bought semiautomatic rifles in Minnesota and shipped them to Gambia.
Jammeh has been accused by human rights groups of persecuting political opponents, homosexuals, and journalists.
In December, the Obama administration removed Gambia from the African Growth and Opportunity Act, which provided for some duty-free trade and expanded quotas for certain goods in response to human rights abuses, including a law signed in October that imposes life imprisonment for some homosexual acts, according to the Associated Press.
-Noel Brinkerhoff
To Learn More:
2 Men Charged In U.S. In Attempted Gambia Coup (by Eric Tucker, Associated Press)
5 Crazy Things About The Gambian Dictator Who Just Survived A Coup Attempt (by Ishaan Tharoor, Washington Post)
Two Americans Charged in Ill-Conceived Plot to Overthrow the Dictator of the Gambia (by Joshua Keating, Slate)
U.S. Charges Over Gambia 'Coup Plot' Against Yahya Jammeh (BBC News)
United States v. Cherno Njie and Papa Faal (U.S. District Court, Minnesota)
Gambian Dictator Cracks Down on Witches (by Noel Brinkerhoff, AllGov)