Tiny Snail Upends Trump's Planned Wall to Protect His Irish Golf Course from Rising Seas
Sunday, December 11, 2016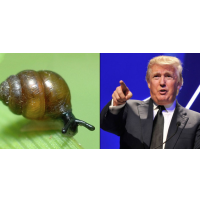 Whorl snail, Donald Trump (photos: Wikipedia, Getty Images)
By Danny Hakim and Sinead O'shea, New York Times
Of all President-elect Donald Trump's rivals over the past year, the tiny narrow-mouthed whorl snail must be the smallest. Sometimes, though, less is more.
Trump's real estate organization had planned to build a long sea wall off the Irish coast to protect its golf course in County Clare. But the wall faced opposition from environmental groups who said they feared that it would threaten the 2-millimeter-long whorl snail, or vertigo angustior, which lives in the area, as well as coastal dunes. Both are protected by European Union rules.
Now it appears that the snail has prevailed.
Trump's representatives said at a meeting at the club this week that they would replace the planned sea wall with two much smaller barriers.
"The simple reason for these changes is time," Joe Russell, general manager at the resort, said in an interview. "The original proposal was going to take too long to push through. I don't have that time. I have the Atlantic Ocean coming at me."
Russell said Eric Trump, one of Trump's sons, had overseen the process on behalf of the Trump family.
"This had nothing to do with the Trump election," he said. "The Atlantic Ocean doesn't have any idea that an election is going on."
The sea wall plan had attracted attention because the Trump Organization's representatives had used the threat of rising seawater from climate change as a rationale for building it, even though Trump has referred to climate change as a hoax. Trump's golf resort, which he bought in 2014, is near the village of Doonbeg, in County Clare, on Ireland's west coast.
The original proposal was for a sea wall about 1.7 miles long. A new proposal unveiled at the meeting includes sheet-metal piling and rock armor stretching for roughly 700 yards in one spot, and for about 200 yards at another end of the dunes. Two of the club's holes will also be moved inland.
The new plan has yet to be officially submitted to the local government.
In a statement, Tony Lowes, director of Friends of the Irish Environment, said "the sense of relief is enormous," adding that "the threat of Trump's Irish wall has hung over Doonbeg like a dark cloud for more than two years."
But he said his group would need to review the Trump Organization's proposal after it was officially introduced before making a fuller comment.
Any new plan will be considered by County Clare authorities and could then be appealed to a national planning review board next year. An appeal would lead to an unusual episode in Ireland's relations with a sitting U.S. president and could involve a public hearing.
The Irish wall is not to be confused with the walls that Trump is building to thwart neighbors at one of his two golf courses in Scotland, where relations with locals and political leaders have been tense. Such projects are among numerous potential global conflicts of interest for the incoming president. While he has said he is turning over management of his businesses to his children, it is not clear that he will undertake the kind of divestment that would alleviate conflict concerns.
An attendee at the meeting this week said the Trump Organization had been eager to avoid further delays.
"They wanted something built in time to protect the golf course," said Fergal Smith, a Green Party activist who works with a group called Save the Waves. "The original wall was not going to get through the planning process or was going to take a long time because there had been such a strong objection. So they had to rethink it and find a quicker solution."
Smith said he wanted to see the scientific rationale for the new plan and to make sure it would not create more erosion.
"The positive note is that it's great they've looked at people's concerns and come back with a compromise solution rather than just going ahead with what they wanted," he added.
While environmentalists have chafed at the planned sea wall, many local residents have been supportive of Trump's presence in the area.
"We have no problem with Donald Trump in Doonbeg," Tommy Tubridy, owner of Tubridy's Bar and Restaurant, said in an interview last month. "It's great that the president of the USA owns land in Doonbeg."
To Learn More:
Climate Change Denier Trump Cites Global Warming as Reason to Build Wall to Protect His Luxury Golf Course (by Michael Biesecker, Associated Press)
Global Warming Sends Earth's Sea Levels Rising Faster than Any Time in Past 2,800 Years (by Seth Borenstein, Associated Press)