Thousands of American Students Find it's Cheaper to Get a Good University Education in Germany than in the U.S.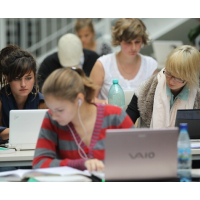 Students at Freie Universitaet in Berlin (photo: Sean Gallup, Getty Images)
With the cost of higher education skyrocketing in the United States, many young Americans have opted to attend college in Germany.
Instead of paying $30,000 to $50,000 annually in tuition and fees at American private universities, students can attend German institutions—including some of the best the country has to offer—for only a few hundred dollars a year.
One example is Technical University of Munich (TUM), "one of the most highly regarded universities in Europe," according to the BBC News, where a U.S. student pays only $120 a semester in fees. The fee includes a ticket that allows free public transportation anywhere in Munich, and student health insurance is less than $90 a month.
Currently, more than 4,600 Americans are attending German universities full-time. That figure represents an increase of 20% over the past three years.
In many cases, the U.S. students didn't need to know German before embarking on their education because some schools teach in English to attract students not just from America but elsewhere as well. Some German universities boast students from as many as 50 different countries. At TUM, 20% of the students are non-German. In Berlin, 25,000 of the city's 170,000 students come from outside the country.
-Noel Brinkerhoff
To Learn More:
How US Students Get a University Degree for Free in Germany (by Franz Strasser, BBC News)
American Students Head To Germany for Free College (by Kirk Carapezza, Marketplace)