Sex Abuse Victims Call for Investigation of Pope in Cover-Up of Crimes by Priests
Wednesday, September 14, 2011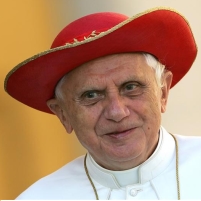 Pope Benedict XVI
The Vatican's U.S. lawyer, Jeffrey Lena, dismissed the complaint, calling it a "ludicrous publicity stunt and a misuse of international judicial processes." The Survivors Network does not deny that they are seeking publicity, noting that this act is a tactic of last resort to call attention to the fact that the Vatican has resisted all other efforts to release the information.
During its nearly 10 years in existence, the ICC has only dealt with crimes related to war and genocide.
Those named in the inquiry include Pope Benedict XVI and three Roman cardinals: Vatican Secretary of State Tarcisio Bertone, Dean of the College of Cardinals Angelo Sodano and William Levada, who is in charge of receiving information about cases of sexual abuse.
-Noel Brinkerhoff