Scotland Pushes to Lift 44-Year-Old Ban on U.S. Imports of Haggis
Friday, November 20, 2015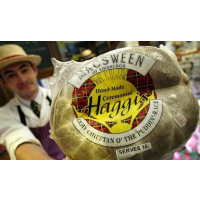 (photo: Getty Images)
Americans may soon be able to enjoy haggis from its source following lobbying by Scotland to end a 44-year-old ban in the United States.
The U.S. Department of Agriculture (USDA) effectively banned the import of haggis from Scotland in 1971 when it barred the bringing in of sheep lungs, a key ingredient in the traditional Scottish dish. Then in 1989, all imports of British lamb and beef were banned because of the bovine spongiform encephalopathy, or "mad cow disease," outbreak. The longstanding import ban has forced Americans who celebrate Burns Night—a celebration of the poet Robert Burns—each January to rely on "inferior local haggis," according to The Guardian.
But persistent lobbying by Scottish agriculture officials has convinced the USDA to consider ending the ban on beef and lamb imports by 2017. "Getting back into the U.S. market in 2017 would unlock a huge market and millions of pounds of business for our Scotch lamb and haggis producers," Scottish Agriculture Secretary Richard Lochhead told The Guardian.
However, the USDA says it will not lift its prohibition on sheep lungs, which would mean any Scottish haggis would have to be altered to enter the U.S. "Sheep lungs cannot enter the U.S. as a human food because FSIS (the USDA Food Safety Inspection Service) has determined that such material made from sheep slaughtered in the United States is inedible and is not inspected for use as an edible material," a USDA spokesperson said. "Sheep lung material from foreign inspection systems likewise are not permitted for human consumption in the United States."
Haggis lovers are warned not to start setting the table yet, though. Other attempts to relax the import ban that appeared promising have come up short in the past and a USDA representative said although work is being done on regulations to relax the ban, they "can't estimate when that rule will be finalized."
-Noel Brinkerhoff, Steve Straehley
To Learn More:
Traditional Haggis Could Soon be Back on U.S. Menus Amid Rethink of Lamb Imports (by Severin Carrell and Ellen Brait, The Guardian)
U.S. Haggis Import Ban 'Could Be Lifted' Under New Rules (BBC)