Radioactive Sinkhole Forces Evacuation of 150 Homes
Wednesday, August 15, 2012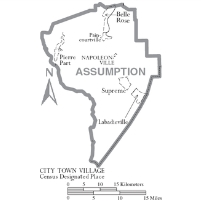 Assumption Parish, Louisiana
An enormous sinkhole in Louisiana has forced the evacuation of 150 homes and prompted a
lawsuit
by local residents claiming the opening may contain radioactive material.
Located about 50 miles from Baton Rouge, the sinkhole occurred when an underground salt cavern used by the Texas Brine Co. for waste storage began to collapse.
The sinkhole, measured in early August to be 422 feet deep and 372 feet wide, is filled with salt-water slurry containing diesel fuel and possibly radioactive substances, according to the plaintiffs.
Local residents say Texas Brine, which was storing byproducts of the drilling industry underground, as well as the Louisiana Department of Natural Resources, knew the cavern walls were at risk of collapsing as early as January 2011, but failed to warn the public.
The company plans to drill a relief well to determine what happened. But it will take 40 days to do so.
In addition to the evacuated homes, three natural gas pipelines were shut down as a precaution and Highway 70 was temporarily closed. Governor Bobby Jindal declared a state of emergency in Assumption Parish.
-Noel Brinkerhoff
To Learn More: