Pressure from Weapons Industry Leads to Renewed Military Aid to Egypt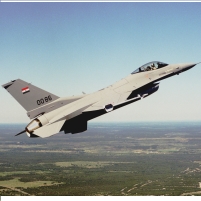 Egyptian F-16 (photo: Lockheed Martin)
Election year pressure from the U.S. weapons industry succeeded last week in persuading Secretary of State
Hillary Clinton
to release $1.3 billion in military aid to
Egypt
by using her authority under a new law to waive a requirement that she certify that Egypt's interim military regime is protecting human rights. A delay or a cut in the aid would have forced Egypt to break contracts with American arms makers, shutting down production lines and laying off workers in the middle of President Obama's re-election campaign. Furthermore, U.S. taxpayers would have been on the hook for about $2 billion in contractual penalties if all sales had been halted.
The weapons companies involved include
Lockheed Martin
, which will ship the first batch of 20 new F-16 fighter jets (at a
price
of about $133 million each) in March, and
General Dynamics
, which has a $395 million contract to deliver parts for M1A1 tanks being assembled in Egypt.
The decision was quickly criticized on Capitol Hill, with Senator Patrick Leahy (D-Vermont), who added the human rights requirement to the law authorizing military aid to Egypt, calling the resumption of aid "business as usual," and Senator Rand Paul (R-Kentucky), saying it was "beyond the pale." Amnesty International (AI) spokesman Sanjeev Bery said that AI "opposes the funding, sale, or transfer of arms internationally where there is a substantial risk that the specific arms in question will be used to commit or facilitate serious human rights violations."
But the
State Department
, in addition to citing the thousands of jobs that would have been lost in the absence of the waiver, also pushed back by emphasizing the progress toward democracy made by Egypt since its revolution last year, a senior State Department official urging that "we've seen more progress in 16 months than we've seen in 60 years."
-Matt Bewig
To Learn More:
Which U.S. Companies Profited from Arming Hosni Mubarak? (by Noel Brinkerhoff, AllGov)