Number of Nuclear Warheads Drops, but Arsenals Are Being Modernized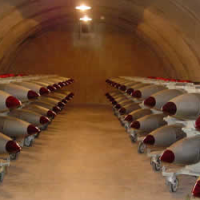 Credit: Department of Defense
By Karl Ritter, Associated Press
STOCKHOLM — The global number of nuclear warheads dropped last year, though none of the nine nuclear powers showed any signs of giving up their atomic weapons, an arms watchdog said Monday.
In an annual report, the Stockholm International Peace Research Institute (SIPRI) said the United States, Russia, Britain, France, China, India, Pakistan, Israel and North Korea, together had about 15,395 nuclear weapons on Jan. 1 this year, down from 15,850 a year earlier.
Of those 4,120 were deployed warheads, meaning warheads placed on missiles or on bases with operational forces. All of those warheads were deployed by the U.S., Russia, Britain and France, SIPRI said.
The institute said global nuclear arsenals have been shrinking since their Cold War-peak of nearly 70,000 warheads in the mid-1980s, mainly due to sharp cuts in Russian and U.S. nuclear forces.
"At the same time, both Russia and the USA have extensive and expensive nuclear modernization programs under way," SIPRI said.
Countries with much smaller nuclear arsenals have started to deploy new delivery systems or announced their intention to do so, the report said, highlighting China, India and Pakistan.
It said that Israel, which neither confirms nor denies having nuclear weapons, is testing "a long-range nuclear-capable ballistic missile."
North Korea is believed to have built up to 10 warheads, but it remains unclear whether the reclusive communist country has produced or deployed any operational weapons, SIPRI said.
"North Korea claims to have designed and built a nuclear warhead that is sufficiently compact and robust for delivery by a ballistic missile," the report said. "However, there is no open-source evidence to indicate whether it has actually done so."
SIPRI is a Stockholm-based independent think tank, partly funded by the Swedish government. Created in 1966, its research is focused on global security, arms control and disarmament.
To Learn More:
Obama Budget Calls for Increase in Nuclear Stockpile Spending while Watchdogs Call for Cutbacks (by Noel Brinkerhoff, AllGov)
Obama Increases Nuclear Weapons Production and Research (by Noel Brinkerhoff, AllGov)
Pentagon Reverses Transparency on Size of U.S. Nuclear Stockpile (by Noel Brinkerhoff, AllGov)