North Korea Suspected of Hacking Sony Pictures over New Comedy Film about Assassinating Kim Jong-un
Wednesday, December 03, 2014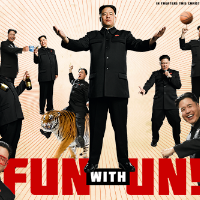 Promotional ad for "The Interview" (graphic: Columbia Pictures)
The crippling attack on Sony Pictures last week may have been the work of hackers in North Korea, where dictator Kim Jong-un was upset over the studio's release of an upcoming motion picture comedy that centers on a fictional attempt to assassinate him.
Bolstering the belief that North Korea was responsible was the discovery that the malicious code used in the cyberattack matched the code used in last year to attack numerous South Korean media companies and banks, according to The Wall Street Journal. North Korea was widely considered to have been behind those attacks.
The movie, The Interview, stars Seth Rogan and James Franco as television reporters recruited by the CIA to kill Kim Jong-un. With a storyline like that, it may prove to be quite a Christmas gift from Sony to the North Korean leader, as it feeds right into the government's propaganda machine aimed at its involuntarily captive domestic audience.
But that doesn't mean Kim and his government were pleased to be mocked by Hollywood. When word of the movie surfaced last summer, North Korean officials "reacted furiously" to it, according to The Telegraph.
Following the November 25 cyberattack, which not only brought down Sony's network but also appeared to have resulted in copies of several upcoming films being stolen (The Interview not among them), North Korea hinted that it was behind the hacking.
Voice of America quoted a spokesman for North Korea's mission to the United Nations as saying "wait and see" as to whether the Communist country was responsible.
In other remarks, North Korean officials have called the filmmakers behind The Interview "gangster moviemakers," and described the plot as "a wanton act of terror." Kim Jong-un wants the film's release cancelled, or else "merciless countermeasures" will take place, according to news reports.
"We won't give up this attack unless Sony Pictures collapses to the end," the hackers known as Guardians of Peace threatened in a message.
Actor Rogan strongly defended his movie in a Twitter post: "I personally don't care if it's disrespectful of Kim, because he's evil. But that's not the intent. North Korea has produced tons of propaganda films that portray America's destruction."
The movies allegedly stolen in the cyberattack—which include Fury and the forthcoming Annie and Still Alice—were posted on online download sites as a way of damaging Sony.
The Interview, which is scheduled to be released in U.S. theaters on December 25, isn't the first movie to focus on the fictional assassination of a world leader. The 2006 British TV movie Death of a President is a fictional documentary that "looks back" at the imagined 2007 assassination of George W. Bush. The film was released while he was still in office.
- Danny Biederman, Noel Brinkerhoff
To Learn More:
Has North Korea Hacked Sony Pictures over Kim Jong-un Assassination Comedy Film? (by Julian Ryall, The Telegraph)
North Korea's Cyberwar on James Franco and Seth Rogen (by Anna Fifield, Washington Post)