New York Cosmos will be First U.S. Professional Team to Play in Cuba in 16 Years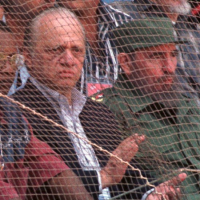 Orioles owner Peter Angelos and Fidel Castro watch 1999 game in Havana (AP photo)
A New York soccer team will soon become the first U.S. professional team to play a game in Cuba since the years of the Clinton administration.
The New York Cosmos will play the Cuban national team on June 2 in Havana, according to The New York Times, marking the first time an American team has played on Cuban soil in 16 years.
The upcoming game between the Cosmos and the Cuban soccer team is the result of President Barack Obama last year restoring diplomatic relations with Cuba. The U.S. hasn't had relations with its southern neighbor in 55 years.
The last U.S. team to play before the break in relations between the two countries was in 1960, when the Class AAA Rochester Red Wings played a game on the island. In 1999, the Baltimore Orioles played Cuba's national team in an exhibition game in Havana, and won, 3-2.
The Cosmos is an ideal opponent for Cuba, the Times' Andrew Das reported, "because of their strong global brand and because they have the former Spain World Cup stars Raúl and Marcos Senna as well as several players from Central and South America."
-Noel Brinkerhoff
To Learn More:
Cosmos to Lead Return to Post-Embargo Cuba (by Andrew Das, New York Times)
New York Cosmos (2010) (Wikepedia)