Mythical Defense Cuts: Steve Chapman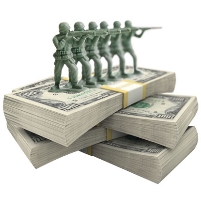 Conservatives have already begun to lament so-called defense cuts for the U.S. military by the liberal Obama administration, says Chicago Tribune columnist Steve Chapman, even though the facts prove otherwise. Chapman cites research by MIT defense scholar Cindy Williams, whose number-crunching shows Obama plans to allocate 2% more for the Pentagon in the next fiscal year than President Bush authorized for the current year, and 11% more than was spent in 2008. "Bush also planned for the defense budget (apart from Iraq and Afghanistan) to shrink slightly each year starting in 2010," writes Chapman, while Obama's plans will keep the defense budget about the same. Overall, defense spending will be higher under Obama than Bush, says Williams.
Chapman also wonders why Obama wants to spend so much on defense, when taking into account that since 2001, defense outlays have risen 40%—that's after adjusting for inflation and not counting the costs of fighting in Iraq and Afghanistan.