Mexico Owes Water to U.S.
Tuesday, September 09, 2014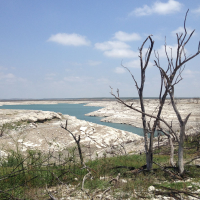 Lake Amistad on the U.S.-Mexico border (photo: Sergio Chapa, Borderzine.com)
Mired in the drought that has dried up so much of the Southwest, Texas is losing patience with Mexico, which owes the state millions of gallons of water.
Under the terms of a 1945 agreement, Mexico and Texas are supposed to send each other a certain amount of water. Texas' share comes from the Colorado River, while Mexico's originates along the Rio Grande.
Each year, Mexico's allotment is supposed to total 350,000 acre feet (one acre-foot of water is equivalent to 326,700 gallons). But the country has fallen behind on its deliveries, and currently owes 380,000 acre-feet to the U.S. That's more water than is used by the 1.5 million Texans in the Rio Grande Valley each year.
Mexican officials insist they can't help the shortfall due to lack of rainfall going back two decades. "We have had a prolonged drought since 1994 until now. It has been difficult for Mexico to give this water," Ignacio Peña Treviño, Mexico's representative on the International Boundary and Water Commission, told The Washington Post. "There isn't rain like there was in the past."
But people in Texas aren't buying the excuse, claiming Mexico hasn't suffered the kind of drought conditions the Lone Star State has. "They haven't been in any sort of significant drought conditions since March of 2012," Carlos Rubinstein, chairman of the Texas Water Development Board, told the newspaper. "That excuse, pardon the pun, doesn't hold water."
A study by Texas A&M University says that losses because of Mexico's failure to deliver its share of water total $229 million and about 5,000 jobs. Still, Rio Grande tributaries in Mexico contain much less water than they have historically. Meanwhile, demand south of the border has gone up, with Mexicans moving north to work in automobile factories in that region.
-Noel Brinkerhoff
To Learn More:
Amid Drought, Texas Is Fuming Because Mexico Isn't Sending the Water It Owes (by Joshua Partlow, Washington Post)
Economic Impact Estimate of Irrigation Water Shortages on the Lower Rio Grande Valley Agriculture (by Luis A. Ribera and Dean McCorkle, Texas A&M AgriLife Extension) (pdf)
International Boundary and Water Commission, United States and Mexico (AllGov)