Mexican Prison Break Is One Event the Media Can't Ignore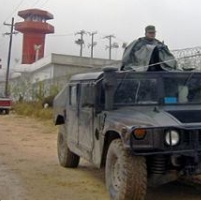 Nuevo Laredo prison
Any prison break involving nearly 60 inmates is enough to make the news, even in a Mexican border town where drug cartels dictate what gets reported.
In Nuevo Laredo, where drug smugglers regularly threaten reporters, editors and publishers to keep quiet about their illicit activities, around 60 prisoners linked to the Zetas drug trafficking organization broke out of the local prison late last week. At least seven members of a rival gang were killed and five guards disappeared during the prison break.
The Centro de Ejecución de Sanciones No. 2 prison was the site of an even larger prison escape last December, when 151 inmates broke out. The facility has not been friendly toward wardens; one vanished after the 2010 escape and his replacement was stabbed to death in March.
The Mexican government decided only last month to clamp down on the drug wars of Nuevo Laredo by sending in the military and imposing martial law—a development that did not make the local news.
-Noel Brinkerhoff