Mexican Peso Taken on Wild Ride during U.S. Presidential Campaign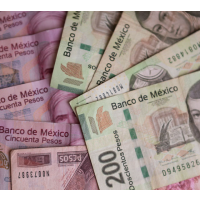 (photo: Getty)
By Associated Press
MEXICO CITY (AP) — Election day in the United States cannot come soon enough for the Mexican peso, especially if Hillary Clinton is the winner.
The currency has been pummeled in 2016, losing close to 10 percent of its value against the U.S. dollar, and briefly breaking the psychological barrier of 20 pesos per dollar. Its few bright spots have come after Clinton's debate performances against Donald Trump.
The peso reached its low point for the year shortly after the Democratic candidate was diagnosed with pneumonia in September. But it has recovered ground from that low amid the feeling that Clinton outperformed Trump in three U.S. presidential debates, including the final one Wednesday night.
The Republican candidate has hammered Mexico not only for illegal immigration, but also for U.S. jobs lost since the North American Free Trade Agreement went into effect. He has said he would force Mexico and Canada to renegotiate the treaty.
The U.S. is Mexico's largest trading partner, so any change could have a substantial impact here. Not to mention Trump's threats to make Mexico pay for the border wall through the remittances that Mexicans working north of the border send home.
An analysis by Mexico's Banco Base forecast on Thursday that with Trump's chances of winning waning the peso could reach 18.40 per dollar in the coming days. But it cautioned, "the pesos gains will be limited until the official result of the elections in the United States are known."
In a report late last month, Swiss bank UBS wrote "excluding sterling, the Mexican peso remains the worst performing currency among majors this year."
It outlined some fundamental reasons behind that weakness including a growing government deficit, but added "the market is also now focused on the risk that the U.S. elections will result in a greater degree of trade protectionism that would directly impact Mexico." The report even included a chart that showed the peso's weakness tracking Trump's support.
Mexico responded to the peso's volatility by raising its interbank interest rate a half-point to 4.75 percent at the end of September to try to bolster the currency and guard against inflation.
At that time, the Bank of Mexico said there was a risk of greater volatility in the currency if there were increased "nervousness derived from the possible consequences" of the U.S. election.
To Learn More:
As Nominee, Trump Employs Code Words to Fuel Racial Animosity, Say Observers (by Russell Contreras and Jesse J. Holland, Associated Press)
Donald Trump Has a Plan for Deporting Millions of California Illegal Immigrants (by Ken Broder, AllGov California)