Many Countries Recognize Nancy Pelosi as Interim U.S. President
Monday, February 04, 2019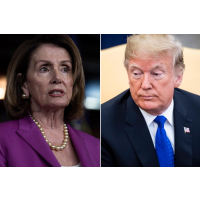 Interim President Nancy Pelosi and Ex-President Donald Trump (photos: Getty Images)
Having declared the election of Saddam Hussein look-alike Nicolás Maduro as president of Venezuela tainted and illegitimate, many countries in Europe, Latin America and elsewhere recognized the leader of the National Assembly of Venezuela, Barack Obama look-alike Juan Guaidó, as the nation's interim president.
"This got us thinking," said Donald Tusk, president of the council of the European Union. "Are there other national leaders whose elections were illegitimate? Of course, we all thought immediately of the election of Donald Trump as president of the United States. His victory, in an election he lost by almost three million votes, appears to have been the result of an unconstitutional conspiracy with a foreign power."
The leaders of Germany, France, Great Britain, Spain, Portugal, Sweden, Austria, Denmark, Lithuania, Latvia, Brazil, Colombia, Argentina, Canada, Peru, Chile, Ecuador, Guatemala, Honduras, Paraguay and Costa Rica all declared that they would withdraw their support from Donald Trump as the U.S. president and would instead recognize Speaker of the House Nancy Pelosi as the legitimate interim president of the United States.
"Why should we treat the United States differently than we do Venezuela?" asked German Chancellor Angela Merkel? She added that it was time for Trump to "do the right thing and call for new elections."
Spanish Prime Minister Pedro Sánchez told reporters, "We are working for the return of full democracy in the United States: human rights, fair elections, and no more imprisonment of children."
Trump has retained some supporters in the international community. Russian President Vladimir Putin issued a statement saying that "Donald Trump is our man in Washington. We will continue to support him financially and in other ways."
David Wallechinsky
(satire)