Leading Women Soccer Players Threaten Legal Action if Forced to Play World Cup on Artificial Turf
Saturday, September 06, 2014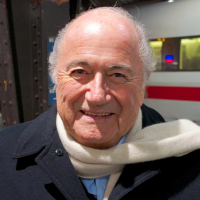 FIFA President Sepp Blatter (photo: Wikipedia)
Some of the biggest names in women's soccer are preparing to sue the host of next year's World Cup tournament in Canada over plans to play games on artificial turf instead of grass.
The 2015 Women's World Cup will take place at six Canadian venues, including the finals at Vancouver's BC Place, which has artificial turf. Since FIFA rules demand that all games be played on the same surface, the entire event will be grass-free. But that has incensed many international soccer players because the surface changes how the ball moves and how the game is played and is responsible for more injuries than natural grass.
The issue also raises gender equality issues: The men's World Cup is played on grass and FIFA, international soccer's organizing group, has in the past been responsive to men's demands to play on grass. Women players want the same consideration. When men's World Cup qualifiers were played in U.S. stadiums with turf fields, grass was put over the turf.
If those FIFA and the Canadian Soccer Association, who are putting on the 2015 World Cup don't heed their concerns, the women are threatening to file a lawsuit to win their fight using Canadian human rights laws and the country's Charter of Rights and Freedoms as the basis for the action.
Lawyers representing the players point out that a poll conducted on behalf of FIFA found 77% of women players want the games played on grass.
"This is the pinnacle of our sport," American star player Abby Wambach told the Associated Press. "As an older player it's not only my job but my responsibility to make sure the sport be played on the very best surface for the very best tournament of our careers."
She also told Think Progress: "I wholeheartedly know that [FIFA president Sepp Blatter] would never do this for the men. We all know that."
-Noel Brinkerhoff
To Learn More:
Attorneys Ask for Support in World Cup Turf Fight (by Anne M. Peterson, Associated Press)
America's Top Female Soccer Star Says FIFA Is Discriminating Against Women by Making Them Play on Turf (by Travis Waldron, Think Progress)
Players Threaten Lawsuit over Artificial Fields at 2015 Women's World Cup (by Leander Schaerlaeckens, Fox Sports)