Largest Immigrant Groups in U.S.: Mexican, Filipino, Indian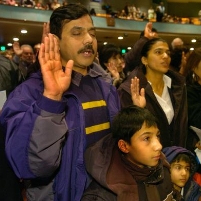 (photo: Lyn Alweis, Denver Post)
While there's been no change at the very top, the leading immigrant groups in the United States now have a new member of the top three. After the two largest immigrant populations—Mexicans (No. 1) and Filipinos (No. 2)—Chinese are no longer third. For the first time since at least 1960, migration from China to the U.S. has been surpassed by that from India.
Today, there are an estimated 1.6 million Indian immigrants in America, with the largest concentrations in California and New Jersey. The wave of immigration from India began to grow in the 1990s and continued into the following decade.
Indian immigrants tend to be better educated than members of other immigrant populations. Almost 75% of Indian-born adults have a bachelor's degree or more. About 25% of Indian-born men in the U.S. labor force work in the IT industry.
-Noel Brinkerhoff