KBR Tries to Convince Judge to Use Iraqi Law in Shower Death of Green Beret
Wednesday, February 09, 2011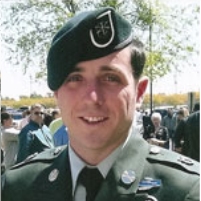 Ryan Maseth
Defense contractor KBR is trying to get out of a lawsuit stemming from the death of a U.S. soldier by claiming that Iraqi, not American, law should apply in determining a verdict.
The civil case was filed in a Pennsylvania court against KBR, a former subsidiary of Halliburton, over the death of Army Sergeant Ryan Maseth, who was electrocuted while taking a shower on his base in
Iraq
. KBR was named the plaintiff by Maseth's parents because the company held a maintenance contract from the
Department of Defense
for upkeep of the military installation.
The electrocution occurred after a water pump shorted out near the showers Maseth was using at the time.
If KBR convinces the judge to apply Iraqi law to the case, the company stands a good chance of avoiding any responsibility for the soldier's death. Also, Iraqi law does not allow for punitive damages.
"Iraq is the location where the plaintiffs' injury occurred, it is the location where all events relating to the incident occurred, and it is the location where the alleged conduct at issue occurred," KBR said in a written motion filed with the court. "There is no other jurisdiction that has a greater interest in having its law apply to this litigation."
The plaintiffs' attorney, Bill Stickman, countered with: "What they don't mention, though, is that a United States soldier was killed while doing his duty on a U.S. base in Iraq, which was maintained by KBR, a U.S. company, which was getting paid by the United States government under a contract entered into with the United States Department of Defense in the United States."
University of Pittsburgh law professor Arthur Hellman told the Pittsburgh Tribune-Review that it was unlikely the judge would apply Iraqi law to the case. "It's hard to see how Iraq would have any interest in the standard of care owed by an American military contractor to an American citizen on an American base."
-Noel Brinkerhoff