JPMorgan Chase's Soccer Super League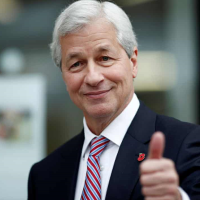 Jamie Dimon (photo: Benoît Tessier, Reuters)
As an American, I grew up being a fan of baseball, football and basketball. It wasn't until I reached adulthood and moved to Europe that I became obsessed with soccer. For one thing, it is the most accessible of sports. No special equipment is required; all you need is a ball. But what really hooked me was the manner in which the sport is organized.
Each nation has its own leagues. Each year, the bottom two or three teams are relegated to the division below, while the top teams in each division are promoted. In addition to league championships, there are league cups. Starting with the lowest divisions, teams play each other for the right to move up to the next round, and teams from higher divisions are added. This continues until first division teams are added. Of course, these teams usually win the national cups, but every now and then a sixth division team fights its way all the way to the final.
When I arrived in France, I was surprised to discover that in our region there were 15 divisions. That's divisions, not just leagues. And that doesn't include the enormous network of youth leagues and teams. The idea is that if you want to play soccer, you should have a chance to do so.
In addition to these national competitions, the best teams from each country qualify for Europe's Champions League and Europa League tournaments, playing against teams from other countries.
On top all this, there are tournaments for national teams. In Europe this means the European Football Championship (the Euros), held every four years, and the Nations League.
And the big one, the quadrennial World Cup, which includes national teams from 211 countries and territories.
This is all entertaining for soccer fans, and allows them to root for numerous teams at the same time, such as one from each of several countries, national teams from different continents and, of course, their local club.
Compare this with the way top-level sports are organized in the United States. American-based sports are what is known internationally as "closed leagues." Once a team is in the NBA, the NFL, MLB or the NHL, they are there are for life. They will never be relegated, no matter how bad a season they have had. And no second division team will ever be promoted to the big time. I've tried to imagine how exciting basketball, in particular, would be if it was organized like soccer, and I've wondered why the NBA itself doesn't organize a vast network of local teams with promotion and relegation and regional tournaments.
Now, along comes an appalling development in European soccer. Twelve of the richest teams from England, Spain and Italy have announced the formation of a breakaway Super League (without consulting the players, of course). A few other teams would be added each year, but each of the founding twelve teams would be guaranteed revenue of at least $250 million, more than the winner of the Champions League.
Where would this enormous sum of money come from? From the United States. Specifically from JPMorgan Chase, the largest U.S. bank, which is providing loans and investments worth $4.8 billion to get the dollars rolling.
Soccer fans, including national leaders, have been outraged by this Super League proposal. Although these protestors are right to focus their anger on the greedy owners of the clubs that have agreed to launch the league, they might want to direct some of their venom at Jamie Dimon, the chairman and CEO of JPMorgan Chase, and the nine other members of its board of directors.
-David Wallechinsky
JPMorgan CEO Jamie Dimon Among Friends at the Senate Banking Committee (by Noel Brinkerhoff, AllGov)