Japanese Government Softened Tsunami Warning 8 Days Before One Hit Fukushima
Wednesday, February 29, 2012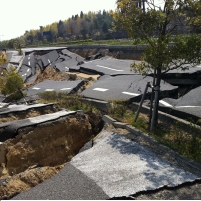 (photo: The Tsunami and the Cherry Blossom)
At the behest of nuclear power companies, government officials in
Japan
softened language relating to the threat of earthquake-produced tsunamis only eight days before last year's disaster.
In early March 2011, representatives of Tokyo Electric Power Co., Tohoku Electric Power Co. and Japan Atomic Power Co. asked the secretariat of the Earthquake Research Committee to amend a draft document discussing the possibility of a huge tsunami striking the northeast part of the country.
The document in question referenced a massive earthquake that hit near Sendai, Japan, on July 9, 869, triggering a large tsunami and drowning an estimated 1,000 people. Based on this historical information, the earthquake committee raised the question of whether such an event could occur again in the same area. Geology experts had predicted that such an earthquake would occur every 1,000 years and that the area was overdue.
The three power companies asked the secretariat in the Ministry of Education, Culture, Sports, Science and Technology to change the draft so people wouldn't get the impression that another disaster could strike in the future.
The secretariat responded by saying: "We're not changing the context but we're going to do something so it may not induce such misunderstanding." Shortly after that, the ministry produced a new draft that read "further study" was needed to determine if massive quakes similar to the Jogan quake had taken place because "appropriate data are insufficient."
The
Rebuild Japan Initiative Foundation
released its report on Tuesday and is scheduled to present the results of its investigation in English at the Foreign Correspondents' Club of Japan on Thursday.
-Noel Brinkerhoff
To Learn More:
The 869 Jogan Tsunami Deposit and Recurrence Interval of Large-Scale Tsunami on the Pacific Coast of Northeast Japan (by K. Minoura, F. Imamura, D. Sugawara, Y. Kono and T. Iwashita, Journal of Natural Disaster Science) (pdf)