Halliburton Pays Nigeria $250 Million to Drop Charges against Dick Cheney
Sunday, December 19, 2010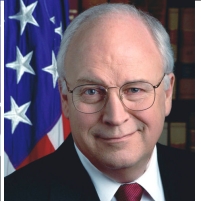 Nigeria has agreed to drop corruption charges against former U.S. Vice President Dick Cheney and other corporate executives accused of bribing the government to secure a profitable natural gas deal. In exchange for the case's dismissal, Halliburton, the company Cheney ran during the 1990s, agreed to pay $250 million to the Nigerian government.
A Nigerian prosecutor claimed $180 million in bribes were paid by representatives of Halliburton (which Cheney ran as CEO from 1995 to 2000), its former subsidiary KBR Inc., Technip SA (Europe's second-largest oilfield-services provider), Eni SpA (Italy's biggest oil company) and Saipem Construction, a unit of Eni, to secure about $6 billion in contracts for building a liquefied natural gas plant.
Last year, KBR was fined $402 million by the U.S. government after officials pleaded guilty to conspiracy and corruption charges. Also, Halliburton and KBR agreed to pay $177 million in forfeited profits, without admitting any wrongdoing, as a result of a separate civil case.
-Noel Brinkerhoff