From U.S. to Netherlands and South Pacific, Courthouses Form Key Battleground for Fight against Climate Change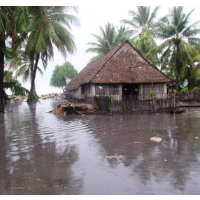 Flood waters surround home on South Pacific island of Kiribati (photo: Plan International Australia via Getty Images)
With some governments slow to take action against climate change, some countries as well as public interest groups have gone to court to force the issue.
Representatives from six South Pacific countries recently announced (pdf) that they intend to sue carbon polluters for their role in causing climate change. The plaintiffs from Vanuatu, Kiribati, Tuvalu, Fiji, the Solomon Islands, and the Philippines are vulnerable to rising sea levels and greater storm activity brought on by climate change.
"The power of this declaration is that it represents what I think is a growing movement of people who are no longer patiently waiting for governments to address the challenges of climate change, and who are actually saying, 'We are going to use the legal mechanism available to us in our courts, in your courts, and human rights bodies to hold you, the polluters, accountable for the human rights violations we are suffering," Carroll Muffett, president and CEO of the Center for International Environmental Law, told ThinkProgress.
Those wanting to bring the polluters to justice face several hurdles, a big one being finding a court in which to sue. U.S. federal courts are an option, but might not work because polluters in America are covered by the Clean Air Act.
ThinkProgress noted that South Pacific islands "have seen a marked uptick in the frequency of the most intense storms — from 1975 to 1989, and 1990 to 2004, the occurrence of Category 4 and 5 storms more than doubled in the Pacific region."
Others going to court over climate change intend to use their own court system to affect new policies.
In the Netherlands, where nearly a quarter of the land is below sea level, 886 Dutch citizens have sued their government because believe it has not done enough to stem climate change. The plaintiffs want the court to order the Dutch government to adopt policies that would reduce emissions between 25% and 40% below 1990 levels by 2020.
-Noel Brinkerhoff, Steve Straehley
To Learn More:
Why These Tiny Island Nations Are Planning To Sue Fossil Fuel Companies (by Natasha Geiling, ThinkProgress)
Taking Climate Change to Court (by Julia Rosen, Pacific Standard)
Dutch Government in Court over Failure to Act on Climate Change (DutchNews)
Tracing Anthropogenic Carbon Dioxide and Methane Emissions to Fossil Fuel and Cement Producers, 1854–2010 (by Richard Heede, Springer Publishing)
Lawsuit Aims at Environmental Impact of U.S. Coal-Leasing Program (by Noel Brinkerhoff and Steve Straehley, AllGov)
The Most Catastrophic Climate Predictions Are Seen as the Most Probable (by Noel Brinkerhoff and Danny Biederman, AllGov)