For the Big Food Industry, Lobbying Pays Big Dividends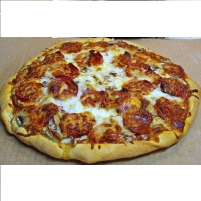 Pepperoni Pizza (Photo: Jon Sullivan)
Even with First Lady Michelle Obama pushing hard for healthier food choices for children, Washington has failed in key battles against the processed food industry, according to a special report from Reuters.
The news wire service reviewed federal, state, and local efforts in recent years to improve nutritional standards and concluded "the food and beverage industries won fight after fight during the last decade."
"They have never lost a significant political battle in the United States despite mounting scientific evidence of the role of unhealthy food and children's marketing in obesity," wrote Duff Wilson and Janet Roberts for Reuters.
For example, industry lobbying resulted in Congress deciding that pizza should be categorized as a vegetable so it could remain in school lunch programs. Lawmakers also refused to adopt a plan by four federal agencies to reduce sugar, salt, and fat in food marketed to children.
The investigation further uncovered that soft drink manufacturers managed to prevent two dozen states and five cities from passing "soda taxes," which would have discouraged consumption of such beverages.
Money played a large role in the victories for industry. In just the last three years, the food and drink industries more than doubled their lobbying expenditures in Washington, reported Reuters.
Meanwhile, the
Center for Science in the Public Interest
, which advocates for healthier food choices, spent about $70,000 on lobbying in 2011—an amount equal to what industry doled out in just 13 hours of opposition campaigning.
-Noel Brinkerhoff
To Learn More: