Federal Court Reinstates Saudi Arabia as Defendant in 9/11 Survivors' Lawsuit
Tuesday, December 31, 2013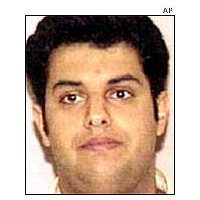 9/11 Saudi Arabian hijacker Waleed al-Shehri (AP photo)
The government of Saudi Arabia is once again facing allegations that it financially supported those responsible for the September 11, 2001, terrorist attacks.
Justices with the Second Circuit Court of Appeals recently reinstated the Saudi government as a defendant in a lawsuit brought by thousands of 9/11 victims, their families and others.
The oil sheikdom was originally a defendant in the case until 2005, when a federal judge, George B. Daniels, ruled that sovereign immunity protected it from liability for the attacks. That liability could potentially amount to tens of billions of dollars in civil damages.
But a Second Circuit three-judge panel ruled this month that Daniels had erred in dismissing Saudi Arabia from the lawsuit.
The appellate ruling also restored as a defendant the Saudi High Commission for Relief of Bosnia and Herzegovina, a government agency accused of directing tens of millions of dollars to terrorists around the world.
Former U.S. Senator Bob Graham (D-Florida), who co-chaired Congress's Joint Inquiry into the 9/11 attacks (pdf), applauded the ruling.
"This is a very significant breakthrough that could collapse the dam of cover up which has kept information on the Saudis involvement from the American people," Graham told Broward Bulldog.
The revived case now goes back to Daniels' court for further proceedings.
Senator Charles Schumer (D-New York), who has introduced legislation to help victims of terrorism on U.S. soil to sue foreign sponsors in federal court, has said: "Substantial evidence establishes (the Saudi defendants) had provided funding and sponsorship to al Qaeda without which it could not have carried out the attacks."
Another congressional development involves Representatives Walter B. Jones (R-North Carolina) and Stephen Lynch (D-Massachusetts) who are sponsoring a resolution urging President Barack Obama to declassify 28 pages that were withheld from the public by President George W. Bush when Congress issued the Joint Inquiry's report 11 years ago.
The redacted pages concern "specific sources of foreign support" for the 19 hijackers, most of whom were Saudi nationals.
Both Jones and Lynch reportedly told the New York Post that they were "absolutely shocked" at the level of foreign state involvement in the 9/11 attacks.
-Noel Brinkerhoff
To Learn More:
9/11 "Cover Up" Could Collapse as Saudi Arabia Restored to Victims' Lawsuit, Says Bob Graham (by Dan Christensen, Broward Bulldog)
U.S. Court Revives 9/11 Victims' Case Against Saudi Arabia (by Jonathan Stempel, Reuters)
Federal Insurance Co. v. Saudi Arabia (Second Circuit Court of Appeals)
9/11 Link to Saudi Arabia Is Topic of 28 Redacted Pages in Government Report; Congressmen Push for Release (by Jamie Reno, International Business Times)