Facebook Blocks Page Supporting Critic of Putin
Tuesday, December 23, 2014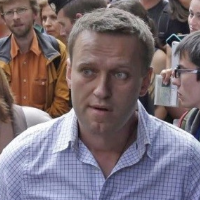 Alexander Navalny (photo: Sergey Ponomarev, AP)
Under pressure from the Kremlin, Facebook agreed to block a page created by supporters of Alexei Navalny, a critic of President Vladimir Putin now under house arrest.
Russian prosecutors recommended a 10-year prison sentence for Navalny, a businessman accused of stealing more than a half a million dollars from two companies. Employees at one of the companies from which Navalny allegedly stole money say there never was any crime.
Critics say the case against Navalny is "purely politically motivated," according to Michael Birnbaum at The Washington Post.
To protest the persecution of Navalny, who has demonstrated against Putin and led anti-corruption investigations against Russian officials, demonstrators created a Facebook page to spread the word about a demonstration. But Russian authorities demanded that Facebook block the page, and the company complied with the order. The Russian government claimed the demonstration represented an illegal and unauthorized event that would "infringe the public order," forcing Facebook to block the page, Birnbaum reported.
Other pages supporting the protest appeared on the site after the initial one was blocked. Facebook said it was still looking into the matter.
-Noel Brinkerhoff
To Learn More:
Facebook Blocks Russian Page Supporting Navalny, Putin's Biggest Critic (by Michael Birnbaum, Washington Post)
Russia Blocks Facebook Page Calling For Navalny Protest (Radio Free Europe)