Democratic and Republican Presidents Agree…U.N. Human Rights Treaty Doesn't Apply to Americans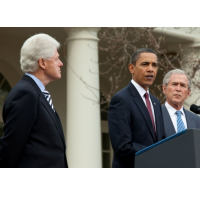 (photo: White House)
Signatories to the United Nations treaty on human rights, which has been in force since 1976, agree to ensure rights to those "within its territory and subject to its jurisdiction." But U.S. presidents of both parties have adopted a somewhat narrow interpretation of that treaty.
U.S. Presidents Bill Clinton, George W. Bush and Barack Obama have all contended that the treaty does not apply to actions taken outside the United States. This interpretation has allowed these presidents to violate anti-torture and other provisions by holding prisoners outside the United States, including at Guantánamo Bay and at "black sites" around the world.
The United Nations disagrees with that view, and is urging the United States to change its interpretation of the treaty as it sends a delegation to Geneva to discuss the issue next week with a U.N. panel, according to The New York Times.
National Security Council spokeswoman Caitlin Hayden defended the United States' interpretation of the treaty to the Times. "The legal position held by prior administrations—Republican and Democratic—is a carefully considered position with a strong basis in the text of the treaty, and there is a very high bar for change under those circumstances," she said.
Hayden said the Obama Administration has a policy of abiding by the Geneva Conventions and domestic detainee abuse laws. But Michael Posner, a former assistant secretary of state for human rights, told the that his hope was that the administration would "take the next step, which is to say, 'This isn't just policy it is an international legal obligation'" to respect human rights wherever American forces control someone.
Harold Koh, a former State Department lawyer in the Office of the Legal Adviser, wrote in a 2013 memo that "In my legal opinion, it is not legally available to policy makers to claim" that the treaty provisions don't apply to U.S. actions abroad.
-Steve Straehley
To Learn More:
U.S. Seems Unlikely to Accept That Rights Treaty Applies to Its Actions Abroad (by Charlie Savage, New York Times)
Bye Bye Bill of Rights (by David Wallechinsky, Huffington Post)