Cold-Blooded Participant in Rwandan Genocide, Caught Lying to Gain U.S. Citizenship, Loses Appeal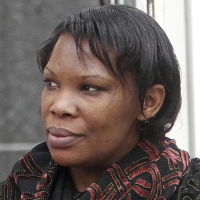 Beatrice Munyenyezi (photo: Jim Cole, AP)
A woman who singled out members of a minority tribe in Rwanda for death lied on her application for U.S. citizenship, an appeals court affirmed last week, and must complete her sentence for the crime.
Beatrice Munyenyezi's husband, Arsene Shalom Ntahobali, led the Interahamwe militia of Rwanda's then-ruling party, the National Republican Movement for Democracy and Development (MRND). Ntahobali, a member of the majority Hutu tribe, operated a checkpoint outside a hotel he managed in Butare, Rwanda. Munyenyezi was found to have "kicked off the killing frenzy there by telling the party's devotees that all Tutsi 'cockroaches' must die," according to the ruling (pdf) Wednesday by a federal appeals court in Boston.
Munyenyezi was prosecuted after a long investigation by Homeland Security agent Brian Andersen, who, according to Michele McPhee in Boston Magazine, became suspicious of Munyenyezi when her sister applied for political asylum in the United States, which had been granted to Munyenyezi in 1995. She became a U.S. citizen in 2003, having sworn that she had not had been a participant in the Rwandan genocide.
In 2003, Andersen's investigation culminated in the sentencing of Munyenyezi to 10 years in federal prison for lying about her role as a commander of one of a roadblocks where minority Tutsis were singled out for slaughter. Munyenyezi appealed her sentence, claiming she was only a bystander. The appeals court disagreed, ruling "she personally inspected IDs at the checkpoint, separated those who would live from those who would die (and die gruesomely), and kept records of the ghastly going-ons." The court on Wednesday also upheld the conviction of Munyenyezi's sister for lying on her application for asylum.
Munyenyezi could not be tried in the United States directly for the Rwandan murders, but she may be sent back to Rwanda at the conclusion of her sentence in the U.S. for prosecution on those charges.
-Steve Straehley
To Learn More:
Rwanda Genocide Roles Support U.S. Convictions (by Jeff D. Gorman, Courthouse News Service)
The Monster Next Door (by Michele McPhee, Boston Magazine)
United States Of America v. Beatrice Munyenyezi (pdf)
Beatrice Munyenyezi Sentenced In Rwanda Genocide Fraud Case (by Lynne Tuohy, Associated Press)
U.S. Citizen May be Charged with Genocide in Rwanda (by Noel Brinkerhoff and David Wallechinsky, AllGov)