China Steps Up Cyber Attacks on U.S.
Sunday, November 22, 2009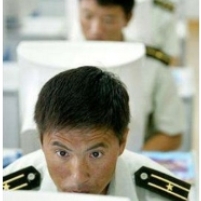 Whether it's using human spies or launching attacks in cyberspace, China is stepping up its intelligence efforts against American security. Experts from the U.S.-China Economic and Security Review Commission told Congress this week in a report that Chinese hackers are going after U.S. military and civilian websites more than ever. Pentagon officials informed members of the commission that China was the biggest reason for a 20% rise in cyber-attacks against the Defense Department in 2008. The military also has warned that such attacks are expected to jump another 60% by the end of this year. Although much of the hacking is done by individuals in China, U.S. officials insist the infiltration attempts are done with the blessing, if not encouragement, of leaders in Beijing.
The commission's report revealed that China is actively trying to recruit Americans to spy on Washington and domestic industries. Beijing is also trying to influence American think tanks and university researchers by granting access to Chinese officials, while denying visas to those who criticize the Chinese government.
-Noel Brinkerhoff