Blame Canada: Canadian Wildfires Polluting U.S.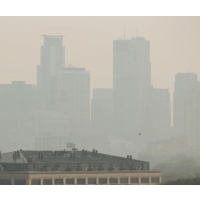 Minnesota's polluted skyline (photo: Jeff Wheeler, Star Tribune via AP)
Large portions of Western Canada are on fire, producing so much smoke that many U.S. states are dealing with serious air pollution.
British Columbia has 184 wildfires, 89 of which that have started since Friday, resulting in smoke being blown over much of the United States.
According to NBC News, air quality alerts attributed specifically to the Canadian fires have been issued for the entire state of Minnesota as well as large parts of North Dakota, South Dakota, eastern Nebraska, Iowa, Illinois, Missouri, northeastern Colorado, and much of western and central Washington.
"The smoke from these fires has risen above 20,000 feet, and the jet stream has been acting like a highway and transporting that smoke all across the country," Dustin Bonk, a meteorologist for NBC station WILX of Lansing, Michigan, told NBC News.
The smoke has traveled as far east as the Atlantic seaboard, where residents have witnessed "fiery red sunrises and sunsets" stemming from the Canadian fire.
The biggest impact has been in Minnesota, where the air quality has been compared to that in areas of heavy pollution such as Beijing. Minnesota's state Pollution Control Agency reported that "fine particle levels had reached unhealthy levels in a diagonal band across the state."
-Noel Brinkerhoff
To Learn More:
Canadian Wildfire Smoke Chokes Much of U.S. (by M. Alex Johnson, NBC News)
An Unprecedented Number of Canadian Wildfires Send Smoke Pollution Across the United States (by Natasha Geiling, ClimateProgress)
In Congress, Left and Right Unite to Create Emergency Wildfire Fund (by Noel Brinkerhoff and Danny Biederman, AllGov)