Bitterly Divided Federal Appeals Panel Halts 22-Year-Old Lawsuit by Farm Workers Exposed to Toxic Chemicals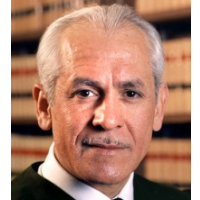 Judge Julio Fuentes
A group of farm workers filed a lawsuit in 1993 against banana growers and chemical companies for illnesses they contracted while using a dangerous chemical. Now, 22 years later, after several court venues dismissed it on procedural grounds, the suit has been dismissed once again without the merits of the case being judged.
Dole and Chiquita used the pesticide dibromochloropropane (DBCP), manufactured by Dow Chemical and others, on their banana farms in Central and South America. The plaintiffs who had worked on those farms claimed in their suit that they were exposed to the chemical in the 1970s and '1980s, but illnesses such as kidney problems, infertility and an increased risk of cancer did not appear until later. Their lawsuit also claimed that Dole has known about DBCP's toxic properties since 1958.
The farm workers filed suit in 1993, but the procedure was held up while awaiting a ruling on whether it could go forward based on the statute of limitations. It was also filed in Louisiana and Delaware, with the plaintiffs trying to get a venue to hear the merits of the case. The suit was dismissed in Delaware because it had been before a Louisiana court, setting the stage for it to go before the Third Circuit Court of Appeals.
In a 2-1 decision, the appeals court upheld the Delaware court's dismissal of the case. "They wanted to keep the same litigation going in two different federal fora simultaneously to see in which one they would fare better," Judge Richard Nygaard wrote. "This duplication of litigation was of their own making and it was not an abuse of discretion for the Delaware District Court to dismiss their second-filed complaint with prejudice, instead of staying the matter."
But Judge Julio Fuentes wrote a strong dissent, pointing out that that the plaintiffs had never been able to present the facts of the case before a judge, rather that the case had been dismissed on procedural grounds. "More than two hundred plantation workers brought this suit alleging their employers and certain chemical companies knowingly exposed them to toxic pesticides over a period of many years," Fuentes wrote. "As a result, they say, they have injured kidneys, are infertile, and are at heightened risk of cancer. Twenty years after first bringing suit, no court has heard the merits of their claims."
Fuentes elaborated: "This is not a litigation strategy designed to get the plaintiffs multiple bites at the apple or a more favorable judge or decisional law than what was offered in Louisiana. Rather, this is a litigation strategy designed to get the plaintiffs a seat at the table to present their claims to a single U.S. District Court."
When a Delaware judge dismissed the case in 2014, Dow Chemical's lawyers crowed about their victory, calling the claims "meritless," according to Law 360, even though Dow had successfully kept the plaintiffs from presenting evidence of their charges.
The Environmental Protection Agency banned the use of DBCP, with certain exceptions, in 1979.
-Steve Straehley
To Learn More:
Farm Workers Stumble in Toxic-Exposure Case (by Andrew Thompson, Courthouse News Service)
DBCP Claims Against Dole Tossed Over Class Action Tolling (by Michael Lipkin, Law 360)
Tobias Bermudez Chavez, et al., v. Dole Food Company, Inc., et al. (U.S. Court of Appeals for the Third Circuit) (pdf)