Bank of America: Thanks for the Bailout…We'll Create Some Jobs in the Philippines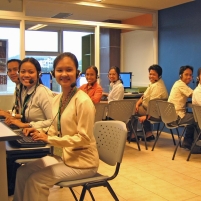 Call center in Philippines (photo: LEAD Career Mover)
Less than four years after it was rescued with nearly $50 billion in taxpayer money, Bank of America has decided to add offshore call-center jobs in the
Philippines
.
BofA follows other major banks—JPMorgan Chase, Citigroup and Wells Fargo—that have already relocated portions of their banking operations to the Philippines.
The decision comes after BofA announced plans last fall to lay off 30,000 workers, and after it received $45 billion from the federal government during the financial crisis. It did pay back the funds and the government made a profit of $4.6 billion.
The transition to the Philippines is expected to save the bank money by hiring Filipinos, whose average family household income is $4,700 a year.
Call center jobs in the U.S. have disappeared in large numbers over the last four years as banks and corporations decided to move customer service functions overseas. The off-shoring has amounted to about 10% of these positions, or 500,000 jobs.
-Noel Brinkerhoff
To Learn More:
Are Foreign Call Centers Endangering U.S. Security? (by Noel Brinkerhoff, AllGov)