Workers at Nuclear Weapons Plant Vote to Strike
Tuesday, September 01, 2015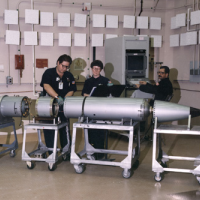 Pantex workers in Amarillo disassemble nuclear weapon (photo: Dept. of Energy)
Employees at a Texas plant that upgrade and disassemble nuclear warheads have voted to strike after the plant's government contractor made its final offer to union representatives.
Members of the Amarillo Metal Trades Council voted 87% in favor of walking off the job at the Consolidated Nuclear Security Pantex (CNS) in Amarillo.
The Pantex facility has long played a key role in the nation's nuclear weapons program. Workers perform critical work involving nuclear weapons life extension programs, weapons dismantlement, development, testing, and fabrication of high explosives components.
The plant also stores plutonium pits for warheads.
The union spent seven months negotiating with CNS, which wants to eliminate defined benefit pensions for new hires and increase healthcare costs for retirees, according to MetalTrades.org.
"Wages are not the issue," Clarence Rashada, president of the Metal Trades Council, said. "Benefits, sick leave, medical coverage, prescription drugs, those are the issues."
The union also faults the Department of Energy (DOE), which oversees the plant. "These workers face dangerous situations every day when they go to work." Ron Ault, president of the Metal Trades Department, AFL-CIO, told MetalTrades.org. "The Department of Energy and CNS Pantex know that these workers risk exposure to cancer-causing chemicals daily, yet the DOE has imposed a ridiculous policy upon its contractors that limits benefits based on a flawed market-based value formula."
-Noel Brinkerhoff
To Learn More:
Nuclear Workers at DOE Amarillo Plant Vote to Strike (by Tara Landis, MetalTrades.org)
Pantex Workers Prepare to Strike (by Jim McBridge, Texas Tribune)