When Daylight Saving Time Ends, Crime Goes Up
Tuesday, November 03, 2015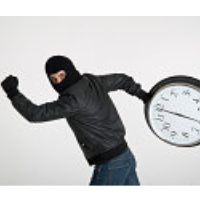 (photo: BarA Muratolu, Getty Images)
When the clocks fall back, the crime rate springs forward, according to a new study on the effects of daylight saving time.
Economists Jennifer Doleac and Nicholas Sanders found certain crimes tend to go up when daylight saving ends each year, as it did last Sunday.
"Most street crime occurs in the evening around common commuting hours of 5 to 8 p.m., and more ambient light during typical high-crime hours makes it easier for victims and passers-by to see potential threats and later identify wrongdoers," Doleac and Sanders wrote in The Review of Economics and Statistics.
Their research, based crime data compiled by the federal government from 2005 to 2008, showed that robberies declined about 7% when daylight saving time goes into effect.
They also determined that the drop in evening crime does not produce a shift to morning criminal behavior. "It's just not an opportune crime hour," Sanders told The Oregonian. "People's schedules aren't as consistent. They may not want to get up. For whatever reason, criminals allocate their behavior to the dark hours."
-Noel Brinkerhoff
To Learn More:
Daylight Saving Time Linked to Lower Violent Crime Rates, Study Finds (by Carli Brosseau, The Oregonian)
Why Daylight Saving Time Could be Even More Awesome than You Think (by Christopher Ingraham, Washington Post)
Want a Safer City? Keep Daylight Savings Time Year Round! (by Kevin Drum, Mother Jones)
Under the Cover of Darkness: How Ambient Light Influences Criminal Activity (by Jennifer L. Doleac and Nicholas J. Sanders, Review of Economics and Statistics) (pdf)
Violent Crime Down Since Colorado Legalized Marijuana (by Noel Brinkerhoff, AllGov)