What Does Jeb Bush do for a Living?
Monday, November 24, 2014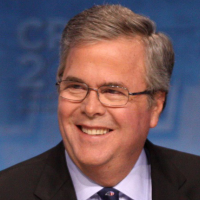 Jeb Bush (photo: Gage Skidmore)
As speculation about whether a third Bush will run for president in 2016, people are starting to wonder what exactly it is that Jeb is doing now.
Bush, the former governor of Florida, has four businesses registered to the same address in the Miami suburb of Coral Gables that don't appear to have conducted any business anywhere, according to an investigation by ThinkProgress. Bush also has a consulting firm, Jeb Bush & Associates, registered to that address.
But while the four companies' purpose is a mystery, Bush's other activities have been more public. Some of his business ties are with companies that might give him some of the same problems faced by Mitt Romney in his 2012 quest for the White House. Another company based at his Coral Gables office, Britton Hill Holdings, has a private equity deal with a Chinese company to acquire a firm involved in shale oil and gas shipping, according to Bloomberg.
Bush is also on the board of Tenet Healthcare, from which he has received more than $2 million in cash and stock since joining it in 2007. Tenet has "paid more than $1 billion over the last decade to settle a series of fraud, overbilling, kickback, and other allegations by its biggest customer: the federal government," according to Don Michak of the Journal Inquirer in Connecticut.
Two other companies on whose boards Bush has served—InnoVida and Swisher Hygiene—have also had accounting and financial problems, some of which have involved criminal prosecutions, according to Josh Israel of ThinkProgress.
Bush was also a consultant to Lehman Brothers in the run-up to the 2008 financial crash. Lehman had previously sold the state of Florida billions in risky securities that went under when Lehman did.
If Bush does decide to run, he can follow Romney's template of deflecting questions about his business dealings. "If he gets himself involved in some financial ventures that don't look good, it could cause him some problems," John Geer, a professor of political science at Vanderbilt University, told Bloomberg. "It really depends on how he handles it."
-Steve Straehley
To Learn More:
Jeb Bush's Four Mysterious Companies Share The Same Address And Have Never Done Any Known Business (by Josh Israel, ThinkProgress)
Jeb Bush's Reverse Midas Touch (by Josh Israel, ThinkProgress)
Jeb Bush Raising Private Equity Funds as Campaign Weighed (by Miles Weiss and Mark Silva, Bloomberg)
A Billion Dollars Paid (by Don Michak, Manchester Journal Inquirer)