Virginia Legislator will Continue to Serve While Spending Nights in Jail for Sex with a Minor
Wednesday, December 17, 2014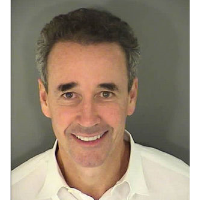 Mug shot of Joseph Morrissey (photo: Henrico County Sheriff's Office)
A state lawmaker in Virginia is now spending his days in the legislature and his nights at a local jail after he was convicted of having sex with a minor.
The age difference between the two is 40 years.
Joseph Morrissey, 57, a Democrat in the Virginia House of Delegates, was busted for having sex more than once with a 17-year-old girl who worked as a receptionist at his law firm.
He pled guilty to a single misdemeanor count of contributing to the delinquency of a minor and was sentenced to 12 months in jail with six months suspended, according to the Times Dispatch. With good behavior, he may go free in 90 days. However, his law license has been put at risk over the episode.
Morrissey was allowed to enter into a work-release program, which permits him to continue his duties as a public official. He is allowed to drive his own car between the jail house and his legislative office. And if he doesn't show up at the jail? "We understand that the legislature can run late into the night; but we will know where he is," Henrico County Sheriff Michael Wade told the Dispatch. A monitoring device has been secured to Morrissey's ankle.
Meanwhile, the under-age staffer discovered she is pregnant, and Morrissey is the presumed father. The lawmaker already has three children, one of which was born out of wedlock. He currently is not married.
Prosecutors obtained Morrissey's cell phone data and found 15 nude photos of the girl along with 80 text messages, some of which included graphic descriptions of sexual acts he said he engaged in with her. One text sent to a friend read: "Hey, buddy, I just [expletive] her on my conference table and again on the floor for good measure!" Another text, this one sent by Morrissey to the victim, read: "Did I mention how much I like touching your body… I think I've explored most of it but I need a few more hours to make sure!"
Morrissey's legal team claimed that his texts had been planted on his cell phone by the victim's allegedly jealous former lover.
In their testimony, the teenage receptionist's mother and sister both praised Morrissey as someone who filled the young woman with thrilling dreams for her career and future. The three women spent the night at Morrissey's home the night before sentencing, according to police surveillance at his house.
-Noel Brinkerhoff, Danny Biederman
To Learn More:
Morrissey Enters Plea, Sentenced To 12 Months with 6 Suspended (by Bill McElway, Times Dispatch)
Prosecutors: Explicit Text Messages Sent Between Del. Morrissey, 17-Year-Old (by Mike Valerio, NBC 12)