Vermont City Achieves All-Renewable Energy
Wednesday, September 17, 2014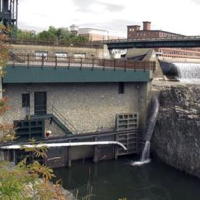 Vermont's Winooski hydroelectric plant (photo: Wilson Ring, AP)
It may not be a metropolis like New York City, but when the largest city of any U.S. state goes entirely renewable, it's a significant achievement for those advocating a future without fossil fuels.
That's what Burlington, Vermont, did recently after completing an energy deal that will result in the city of 42,000 receiving all of its power from wind, water and biomass, according to the Associated Press.
Burlington had been moving in the direction of renewable self-sufficiency for the past decade. But it wasn't until the city completed an agreement bringing in electricity from a hydro plant along the Winooski River that officials could celebrate reaching their goal.
"It shows that we're able to do it, and we're able to do it cost effectively in a way that makes Vermonters really positioned well for the future," Christopher Recchia, the commissioner of the Vermont Department of Public Service, told the AP.
The Burlington Electric Department gets its power from three sources, according to Ari Phillips at ThinkProgress: One-third comes from wind energy operators, another third from the Winooski One and Hydro-Québec hydroelectric stations, and a final third from the Joseph C. McNeil Generating Station, which is a biomass installation that uses logging residue wood chips in its processing.
Burlington Electric and Washington Electric, which service 11,000 residents in northern and central Vermont, concede that renewable sources don't provide electricity to their customers around the clock.
"When the wind isn't blowing and the rivers are low, they will buy power from traditional sources that include electricity generated from fossil fuels," wrote AP's Wilson Ring. "When the resources are right, though, they get more than they can use, and the difference is sold to other utilities. Over time, they sell more than they buy."
Engaging in renewable energy credit trading with utility firms in other states, primarily those in New England, minimizes Burlington's achievement, according to some observers.
"They are selling the renewable energy credits to customers in other states," Sandy Levine of the Conservation Law Foundation told AP. "Those customers have the renewable and clean energy benefits of that power. Simply using accounting measures to make claims about clean energy doesn't get us there." Levine nonetheless commended the firm for what it has accomplished.
Burlington's milestone is also good news for the state, which has set its own goal of meeting 90% of Vermont's energy needs through renewable resources by 2050.
-Danny Biederman, Noel Brinkerhoff
To Learn More:
In Vermont, a Milestone in Green-Energy Efforts (by Wilson Ring, Associated Press)
Largest City In Vermont Now Gets All Its Power From Wind, Water And Biomass (by Ari Phillips, Think Progress)
Vermont Becomes First State to Move Towards Single-Payer Health Care (by Noel Brinkerhoff, AllGov)
Energy Distributions Can't Keep up with Wind Energy Production (by Matt Bewig, AllGov)