U.S. Needs to Learn from Europeans…About Hurricane Forecasting
Saturday, October 10, 2015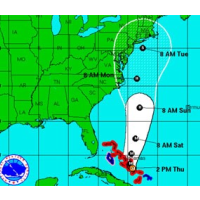 Hurricane Joaquin was predicted to hit mid-Atlantic states (graphic: NOAA)
The European system for predicting the route of hurricanes scored another victory earlier this month, giving a better prediction of Hurricane Joaquin's path than the U.S. model did.
U.S. officials using the Global Forecast System (GFS) warned for two days that Joaquin would strike the East Coast around the Mid-Atlantic region. Instead, it remained out at sea—which is what the European Center for Medium-Range Forecasts forecast.
"Eventually, the GFS model forecast shifted to the correct solution, but the European model had the correct forecast about 24 hours before the GFS, emerging victorious," Jason Samenow wrote at The Washington Post.
Samenow noted the European model was also right about Superstorm Sandy, predicting it would hit the Northeast coast before the U.S. model reached the same conclusion, but only after it first said Sandy would hook out to sea.
"Statistics show the European model is the most accurate model—on average—for forecasting global weather systems. The European model has a more powerful computer, better model physics and a superior system for bringing in data. All of this profoundly affects how well the model simulates what's happening in the atmosphere," Samenow wrote.
The National Weather Service has recently upgraded its computers and on occasion beats the European forecasts for storms. But the Europeans continue to improve their methods, staying a step ahead of the United States.
-Noel Brinkerhoff
To Learn More:
What the European Model 'Win' Over the American Model in Joaquin Means for Weather Forecasting (by Jason Samenow, Washington Post)
Hurricane Joaquin Forecast: Why U.S. Weather Model Has Fallen Behind (by Nate Cohn, New York Times)