U.S. Gets its First Openly Bisexual Governor
Sunday, February 15, 2015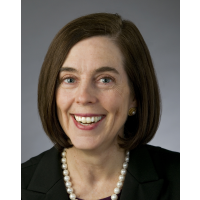 Kate Brown
The announced resignation of scandal-plagued Gov. John Kitzhaber means that Oregon will soon have the first openly bisexual governor in the nation.
Kate Brown is Secretary of State for Oregon, which has no lieutenant governor. She will assume office on Wednesday when Kitzhaber's resignation is set to take effect. Until now, the most prominent bisexual elected official in the United States has been Rep. Kyrsten Sinema (D-Arizona)
Brown's sexual orientation has been known to Oregon voters for years, as she has worked her way from the state house of representatives to the state senate and was first elected as secretary of state in 2008.
Brown, who is married to a man, said it's sometimes difficult dealing with friends and family about her orientation. "Some days I feel like I have a foot in both worlds, yet never really belonging to either," she wrote in an essay for a series of portraits of out lawmakers.
Her orientation appears to be a non-issue for Oregonians. In fact, the most controversial thing about Brown is actually a letter she submitted endorsing the Comcast merger with Time Warner Cable. The letter was partly written by a Comcast lobbyist. The cable giant has given $9,500 to Brown since 2009, according the National Institute of Money in State Politics. She has also received financial support from the national LGBT community.
Other than that, Brown has kept a low profile, which is expected of secretaries of state. Her campaigns have been based on promises of government transparency and ease of voting. Oregonians should find the transparency refreshing; one of Kitzhaber's last acts as governor was to order the erasure of his emails from state servers. Those in charge of the servers rebuffed the request.
-Steve Straehley
To Learn More:
America's First Openly Bisexual Governor (by David A. Graham, The Atlantic)
This Woman Will Soon Become the First Openly Bisexual Governor in American History (by Hunter Schwarz, Washington Post)
Kate Brown 'Ready' to Replace John Kitzhaber as Oregon Governor (by Benjamin Brink, Oregonian)
First Openly Bisexual (and once Homeless) Member of Congress Sworn In (by Noel Brinkerhoff, AllGov)