Undocumented Immigrant Cleared to Practice Law in Florida
Thursday, December 04, 2014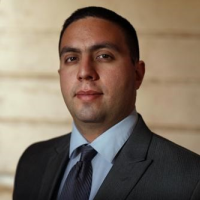 José Godinez-Samperio (photo: Kathleen Flyy, Tampa Bay Times via AP)
José Godinez-Samperio can now legally practice law in Florida despite being an undocumented immigrant.
The son of Mexican immigrants who stayed in the U.S. after their visas expired, Godinez-Samperio was a high school valedictorian who received his law degree from Florida State. He never hid his status but it came back to haunt him after he passed the Florida bar exam. He was unable to join the Florida Bar because he didn't include his citizenship status on his application.
The state Supreme Court determined that an undocumented immigrant was not allowed to practice in Florida. But in a concurrence to the opinion, Chief Justice José Labarga suggested that the state legislature do something to fix the problem. The legislature subsequently made it possible for Godinez-Samperio to be sworn in November 20 as a Florida attorney.
Labarga wrote: "In many respects, Applicant's life in the United States parallels my own. He and I were brought to this great nation as young children by our hardworking immigrant parents. ... We excelled scholastically and graduated from college and law school. ... Both of us were driven by the opportunities this great nation offered to realize the American dream. Sadly, however, here the similarities end and the perceptions of our accomplishments begin."
The difference was Labraga's parents were "defectors from a tyrannical communist regime. Thus, we were received with open arms, our arrival celebrated, and my path to citizenship and the legal profession unimpeded by public policy decisions. Applicant, however, who is perceived to be a defector from poverty, is viewed negatively because his family sought an opportunity for economic prosperity," the chief justice said.
Godinez-Samperio is in no danger of being deported. He's covered under President Barack Obama's 2012 Deferred Action for Childhood Arrivals program.
-Noel Brinkerhoff
To Learn More:
Undocumented Immigrant Beats Legal Maze To Practice Law In Florida (by Jerome R. Stockfisch, Tampa Tribune)
Undocumented Immigrants can Now Practice Law in Florida (Homeland Security News Wire)
Illegal Immigrant Who Wants to Be a Lawyer May be Blocked by Federal Law (by Ken Broder, AllGov)