Turning Guns and Bullets into Jewelry
Saturday, October 18, 2014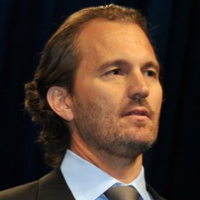 Peter Thum (photo: University of Central Florida)
Chicago law enforcement has found a new use for confiscated guns: Turn them into jewelry.
With the help of entrepreneur Peter Thum, the Cook County Sheriff's Office intends to convert hundreds of firearms into necklaces, rings and other jewelry.
The guns, including those seized in drug busts, will be turned over to Thum's Liberty United, which will melt them down.
Liberty United has already done this with handguns and ammunition seized by police in Philadelphia, Syracuse and Newburgh, New York. With the support of those cities' police departments, Thum's company melted down the confiscated weapons and turned them into rings, necklaces and cuff links.
The Cook County department seizes about 1,500 guns per year. The weapons usually come from drug houses, or are found during the serving of evictions. Typically the guns are taken to an incineration facility for destruction.
The newly created jewelry is sold by Liberty for prices ranging from $35 to $1,600. From 20% to 25% of the profits from those sales will go to Children's Home + Aid, a nonprofit working to stem violence in Chicago neighborhoods.
Thum is also the founder of Fonderie 47, which to date has removed 40,000 assault rifles from African war zones and converted them into high-end jewelry and art.
Thum created his business a few months after the murders at Sandy Hook Elementary School. His work is a response to the gun violence in the U.S. and to the personal experiences he and his wife have had of seeing friends and others lose their lives from gunfire.
"There's no shortage of gun material" for his business, Thum told ABC News. "But I'd love to be in a position where we have a supply problem."
- Danny Biederman, Noel Brinkerhoff
To Learn More:
Sheriff to have Seized Guns Turned into Jewelry (by Steve Schmadeke, Chicago Tribune)
Chicago Guns and Bullets to be Melted Down, Made into Jewelry (by Mary Wisniewski, Reuters)
You'll Never Believe What This Jewelry Is Made From (by Rebecca Jarvis and Mary-Rose Abraham, ABC News/Yahoo News)
Orange County Destroying 500 Guns, Leaving Just 310 Million in the Country (by Ken Broder, AllGov California)