Trees Credited with Saving U.S. $6.8 Billion a Year in Health Costs
Friday, September 12, 2014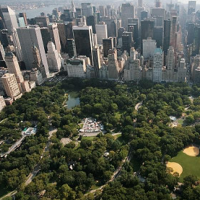 Central Park, Manhattan (photo: Mark Lennihan, AP)
An apple a day may keep the doctor away, but an apple tree can help everyone breathe better.
In a new study (pdf), scientists have quantified the benefits of trees, particularly their setting in urban environments. They determined that the United States saves about $6.8 billion a year in healthcare costs by having trees in cities.
In 2010 alone, the country avoided 850 deaths and 670,000 cases of acute respiratory symptoms, the researchers led by forester Dave Nowak found, thanks to 17 tons of air pollution being removed from the atmosphere by trees.
"The takeaway is that trees have a huge impact on pollution," Novak told The Atlantic's James Hamblin, "and when populations increase, trees have a greater impact based on being close to where people live."
"In terms of impacts on human health, trees in urban areas are substantially more important than rural trees due to their proximity to people," the researchers wrote. "The greatest monetary values are derived in areas with the greatest population density (e.g. Manhattan)."
Previous studies have also illustrated the benefits of trees to human beings. Hamblin cited a 1970s-era report of Pennsylvania gall bladder patients whose hospital-room view of trees caused them to recover more quickly than those whose windows looked out at a building. Another study he cited found that women who had been diagnosed with breast cancer benefited from spending two hours per week in a nature setting.
Novak suggested that the country should "start having this discussion…about the impact of trees on human health. We're talking billions of dollars a year [in benefit] from urban forests. It adds up, if you look at the whole picture."
-Noel Brinkerhoff, Danny Biederman
To Learn More:
Tree and Forest Effects on Air Quality and Human Health in the United States (by David J. Nowak, Satoshi Hirabayashi, Allison Bodine and Eric Greenfield, Environmental Pollution) (pdf)
The Health Benefits of Trees (by James Hamblin, The Atlantic)