Titles of Government Reports you're Not Allowed to See are Published by GAO…Except for Titles You're Not Allowed to See
Tuesday, October 20, 2015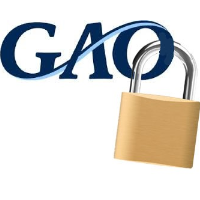 (graphic: Steve Straehley, AllGov)
The investigative arm of Congress has published a list of reports that cannot be released to the public because they contain classified information. However, even part of the list of secret reports is . . . secret.
The Federation of American Scientists reported last week that the Government Accountability Office (GAO) "quietly published" a list of titles of its restricted reports that have not been publicly released because they contain "classified information or controlled unclassified information." GAO officials said the list was published in an effort to inform lawmakers, federal agencies and the public about those reports.
The list goes back only as far as September 30, 2014, and it does "not cite titles that are themselves classified," Steven Aftergood wrote.
"We excluded titles of products primarily focused on an element of the intelligence community to be consistent with the general practices of the IG [Inspector General] Offices within that IC [Intelligence Community], who generally don't post these titles," Timothy Minelli of GAO Congressional Relations, told Aftergood. "Only titles of products that that are primarily focused on an element of the IC won't be listed, which we believe will be a very small number, likely less than a handful per year."
-Noel Brinkerhoff
To Learn More:
GAO Posts Titles of Restricted Reports (by Steven Aftergood, Federation of American Scientists)
Government Watchdog Quietly Releases List of 'Restricted Reports' Being Investigated (RT)
Restricted Products (U.S. Government Accountability Office)
U.S. Government's Secret Documents Filled with Classification Errors (by Noel Brinkerhoff and David Wallechinsky, AllGov)
11 Secret Documents Americans Deserve to See (by David Wallechinsky, AllGov)
81 Boxes of Top-Secret and Restricted Documents Missing at National Archives (by Noel Brinkerhoff, AllGov)